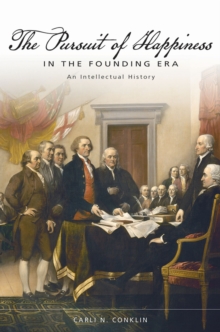 The Pursuit of Happiness in the Founding Era : An Intellectual History
Hardback
Description
Scholars have long debated the meaning of happiness, yet have tended to define it narrowly, missing its larger context.
They have focused on a single intellectual tradition, most commonly the political philosophy of Locke, and on the use of the term within a single text, the Declaration of Independence.
Carli Conklin considers happiness across a variety of intellectual traditions, and focuses on its usage in two key legal texts of the Founding Era: Blackstone's Commentaries on the Laws of England, as well as the Declaration.
In so doing, she makes several contributions to the fields of early American intellectual and legal history.
Information
Format: Hardback
Pages: 215 pages
Publisher: University of Missouri Press
Publication Date: 28/02/2019
Category: History of the Americas
ISBN: 9780826221858
Also in the Studies in Constitutional Democracy series | View all