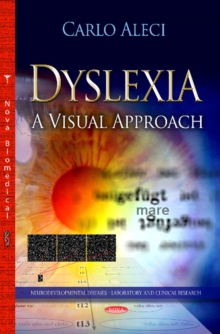 Dyslexia : A Visual Approach
Hardback
Description
Even if the ophthalmological aspects of developmental dyslexia are generally considered negligible in comparison to the cognitive and phonological ones, a growing body of evidence suggests in many patients the presence of deficiencies related to a neuronal sub-population along the visual pathway.
Still, even in the limited area of neuro-ophtalmological research, there is no general agreement on the mechanisms underlying reading impairment and on how the aetiological element determines the phenotype, that is to say the typical symptomatology.
Nevertheless, the spatial and temporal vision in dyslexics seem to be defective.
The purpose of this work is to report in a critical way the state of the art visual research in developmental dyslexia, without considering the aspects that go beyond our competence.
In the second part of the treatise, the personal approach to the visuoperceptive impairment in this clinical condition is phenomenological rather than aetiological: it investigates the problem from the perceptive symptoms and signs rather than from the causal hypothesis and from the anatomofunctional demonstration.
Without claiming to exhaust the subject, we have pursued a triple aim: trying to shed light on one of the most debated and controversial questions, providing a rigorous and comprehensive overview on the current acquisitions, and, why not, offering some cues to those who intend to contribute to solve this problem.
Free Home Delivery
on all orders
Pick up orders
from local bookshops