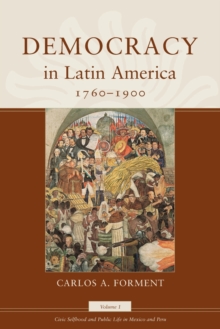 Democracy in Latin America, 1760-1900 : Civic Selfhood and Public Life in Mexico and Peru v.1
Paperback / softback
Description
Carlos A. Forment's aim in this highly ambitious work is to write the book that Tocqueville would have written had he traveled to Latin America instead of the United States.
Forment pores over countless newspapers, partisan pamphlets, tabloids, journals, private letters, and travelogues to show in this study how citizens of Latin America established strong democratic traditions in their countries through the practice of democracy in their everyday lives.
This first volume of Democracy in Latin America considers the development of democratic life in Mexico and Peru from independence to the late 1890s.
Forment traces the emergence of hundreds of political, economic, and civic associations run by citizens in both nations and shows how these organizations became models of and for democracy in the face of dictatorship and immense economic hardship.
His is the first book to show the presence in Latin America of civic democracy, something that gave men and women in that region an alternative to market-and state-centered forms of life.
Information
Format: Paperback / softback
Pages: 488 pages, 9 maps, 19 figures, 11 tables
Publisher: The University of Chicago Press
Publication Date: 18/10/2013
Category: History of the Americas
ISBN: 9780226101415
Also in the Morality and Society Series series | View all