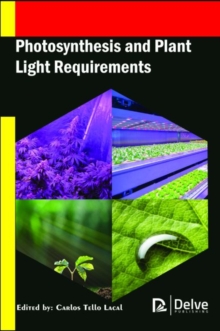 Photosynthesis and Plant Light Requirements
Hardback
Description
Photosynthesis plays a central role in sustaining life on Earth, being its major outcomes the fixation of atmospheric CO2 into carbohydrates and the production of O2 as a result of the lysis of water.
Numerous pigments, photoreceptors, light harvest complexes, electron transport chains and enzymes are involved in this process.
Understanding the functioning of photosynthesis is the first step towards increasing its performance, which can ultimately increase crop yield.
By compiling open access research papers, the present books reviews the state-of-the-art knowledge on the different aspects concerning photosynthesis, including the potential application of recent findings. In Chapter number 1, the editor describes the photoreceptors employed by plants to convert the different wavelengths into signals, as well as the effects of light quality on plant growth and metabolism.
Chapters 2 and 3 deal with chlorophylls and other plant tetrapyrroles by reviewing their synthesis and signaling, respectively.
In turn, Chapter 4 describes the synthesis of the other major pigment type, carotenoids, in chili peppers.
The next block of two chapters exposes the current knowledge on chloroplasts.
Chapter 5 explores the phylogenetic diversity of chloroplast genomes and the potential of this knowledge in genetic engineering, while Chapter 6 reviews their inter-organellar and inter-cellular signaling.
In Chapters 7 and 8, the respective functioning of photosystems I and II in light harvesting is detailed.
Chapter 9 reviews the different reactions taking place at the thylakoid lumen, as well as the proteins involved.
A detailed overview of the photosynthetic electron transporters plastoquinone and ubiquinone is presented in Chapter 10.
Information
Format: Hardback
Pages: 524 pages
Publisher: Arcler Education Inc
Publication Date: 01/11/2017
Category: Botany & plant sciences
ISBN: 9781773610498
Free Home Delivery
on all orders
Pick up orders
from local bookshops