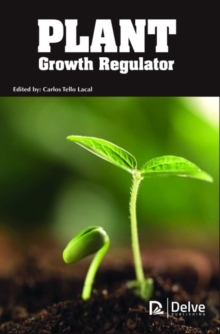 Plant Growth Regulators
Hardback
Description
Plant development, growth and metabolism are highly complex processes requiring the precise fine-tuning of the different molecules involved.
Plant growth regulators, also known as plant hormones or phytohormones, are signaling molecules that coordinate these processes, both locally and over greater distance, thereby influencing the growth, development and differentiation of cells, tissues and organs.
By compiling open access research papers, the present books reviews the current knowledge on the main plant growth regulators: ABA, auxins, cytokinins, gibberellins, ethylene, brassinosteroids, jasmonic acid, nitric oxide, salicylic acid and strigolactones.
In Chapter number 1, the editor presents a detailed overview of strigolactones, the plant growth regulators most recently identified, covering their structure and biosynthesis, signaling and biological functions.
The role of ABCG-type ABC transporters in the transport of ABA, cytokinins and strigolactones is discussed in Chapter 2.
In Chapter 3, the signaling process of ABA, as well as the role of the PYR/PYL/RCAR receptors, the PP2C phosphatases and the SnRK2 kinases in it, is briefly reviewed.
While Chapter 4 exposes the well-known role of this phytohormone in abiotic stress signaling, Chapter 5 describes its function in regulating root length and architecture.
In Chapter 6, the response to auxins through the pathways involving TIR1/AFB1, SKP2A, SAUR proteins, IBR5 and MPK12, and ABP1 and TMK1 is discussed.
The different families of auxin transporters, as well as their role in monocot development, are reviewed in Chapter 7.
Chapter 8 describes how auxin signaling, homeostasis, cross-talk with other phytohormones and interaction with environmental factors controls root hair growth.
The homeostasis, signaling and cross-talks of brassinosteroids are described in Chapter 9, while Chapter 10 reviews the biological functions of this phytohormone in rice.
Cytokinin signaling and transport are respectively described in Chapters 11 and 12, being a brief overview of the role of this hormone in regulating the architecture of inflorescences presented in Chapter 13.
The interaction of ethylene and light signaling to promote hypocotyl growth is described in Chapter 14, while the biological functions of this phytohormone concerning seed dormancy.
Information
Format: Hardback
Pages: 408 pages
Publisher: Arcler Education Inc
Publication Date: 01/11/2017
Category: Botany & plant sciences
ISBN: 9781773610450
Free Home Delivery
on all orders
Pick up orders
from local bookshops