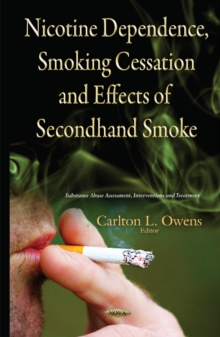 Nicotine Dependence, Smoking Cessation & Effects of Second-Hand Smoke
Hardback
Description
The clinical course of nicotine dependence, nicotine withdrawal and smoking cessation varies significantly between men and women smokers.
Recent research has also suggested that certain personality traits and experiences predict and help maintain smoking behavior, thus leading to dependence and negative health consequences.
The chapters in this book include research on the correlation between people's early engagement in smoking behavior and later problematic levels of use, the role of hormone therapy (HT) to treat smoking / nicotine dependence; the association between active and passive water pipe tobacco smoking and health issues that might develop later on (as well as the similarities and differences between tobacco smoking and cigarette smoking).
Worldwide tobacco use, production and consumption are continuing.
Of approximately 1.2 billion smokers in the world, about half of them will die from diseases caused by smoking.
The authors' describe the extent of nicotine dependence, the neurobiology of nicotine dependence, which is important for understanding tobacco addiction and its treatment, and describe the pharmacological and non-pharmacological treatments of nicotine dependence, including electronic cigarettes.
The final two chapters detail the chemical composition and health risks associated with secondhand smoke (SHS) exposure.
These chapters address the impact of SHS on children in particular, as well as the deleterious effect on workers' health that often takes place in indoor environments, and finally, recent global public policies that have been implemented on tobacco control are addressed.
Free Home Delivery
on all orders
Pick up orders
from local bookshops