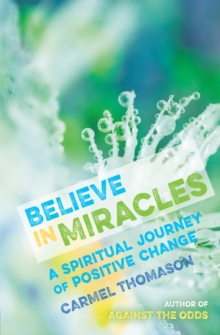 Believe in Miracles : A Spiritual Journey of Positive Change
Paperback / softback
Description
Believe in Miracles is a 40-day journey that will open your eyes to the extraordinary to be found in the everyday.
Focusing on small practical steps, you are invited to follow a series of short exercises that will help bring about lasting changes in your life, leading to a more prayerful, contented and connected state of being.
By setting aside as little as 20 minutes a day, you will learn to view differently your daily circumstances, your relationship with God, and your relationships with others, bringing something of the ways of heaven to earth.
As Carmel Thomason writes in her introduction: 'We all want to experience love, wonder, beauty, joy, and creativity, yet our reality is often something very different.
We would like to feel more connected to ourselves, to God and to other people, but often we can't see how this could be possible.
Wherever you are in your spiritual journey right now, it's OK.
God meets us where we are; all he asks is that we show up for our part.
The miracle of the day is already yours; the adventure begins when you're open to experience it fully.'
Information
Format: Paperback / softback
Pages: 208 pages
Publisher: BRF (The Bible Reading Fellowship)
Publication Date: 19/02/2016
ISBN: 9780857464200