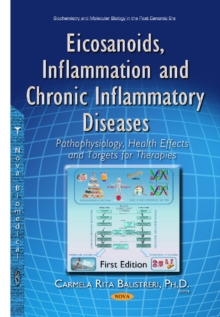 Eicosanoids, Inflammation & Chronic Inflammatory Diseases : Pathophysiology, Health Effects & Targets for Therapies
Hardback
Description
Eicosanoids constitute a large and expanding family of bioactive lipids synthesized from polyunsaturated fatty acids (PUFA) to either pro-inflammatory omega-6 arachidonic acid (AA) or anti-inflammatory omega-3 eicosapentaenoic acid (EPA) and docosahexaenoic acid (DHA).
In these last cases, two essential fatty acids (FAs) ( -6 linoleic acid (C18:2n6) and -3 linolenic acid (LA) (C18:3n3) are utilized as substrates and a series of desaturase and elongase enzymes are essential for their production.
Among these different members, the AA-derived eicosanoids operate as potent signaling mediators that provide an efficient way for cells to respond to various stimuli.
As a result, they act as part of a complex regulatory network and control a number of important physiological processes.
Some of these processes include: smooth muscle tone; vascular permeability; platelet aggregation; broncho-constriction/dilation; intestine motility.
Information
Format: Hardback
Pages: 272 pages
Publisher: Nova Science Publishers Inc
Publication Date: 01/09/2015
Category: Physiology
ISBN: 9781634827997
Free Home Delivery
on all orders
Pick up orders
from local bookshops