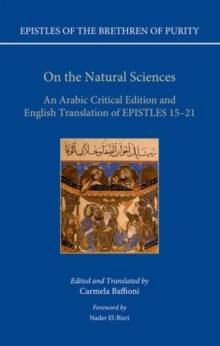 On the Natural Sciences : An Arabic critical edition and English translation of Epistles 15-21
Hardback
Description
This is the first critical edition of Epistles 15-21 of the Brethren of Purity, which explore the natural sciences and correspond to Aristotle's great works on philosophy of nature.
Along with Epistle 22, 'On Animals', Epistles 15-21 correspond to the corpus of Aristotle's great works on the philosophy of nature: Physica, De caelo, De generatione et corruption, and Meteorologica I-III.
Meteorologica IV may correspond toEpistle 19 'On Minerals' (though no such Aristotelian work has reached us), and Epistle 21 is a reminder of the works on plants written by Theophrastus, Aristotle's pupil, and onwards.
Epistle 20, 'On the Quiddity of Nature', is an exposition of Aristotelian doctrines, as well as of those of Neoplatonic origin; it opens the angelologic tradition,whose main representatives in Islamic philosophy were Ibn Sina (d. 1037) and Suhrawardi (d. 1191). Besides providing the necessary references to the works by Aristotle and other Greek authors, this book deals with various doctrines of Ismaili origin echoed in the treatises, foremost of which is the hierarchical representation of the three natural kingdoms, which corresponds to the hierarchy of human beings.
The basis of human salvation is here seen in the relation between divine Artisan andhuman artisan, both of whom accomplish their works by actualizing their knowledge.
As is known, although moral behaviour is one necessary condition, salvation cannot be reached without a thorough knowledge of the sciences described in the encyclopaedia.
Information
Format: Hardback
Pages: 969 pages
Publisher: Oxford University Press
Publication Date: 28/11/2013
Category: Islamic & Arabic philosophy
ISBN: 9780199683802
Free Home Delivery
on all orders
Pick up orders
from local bookshops
Also in the Epistles of the Brethren of Purity series | View all