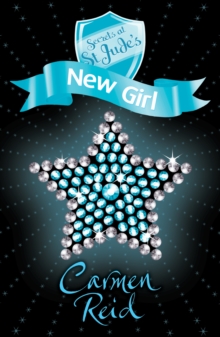 Secrets at St Jude's: New Girl
Paperback
Description
Gina's mother is fed up with her staying out late, spending too much money on clothes and too much time IM-ing her friends.
But her solution to sort out her wayward LA IT girl is pretty drastic - she's sending Gina to Scotland to go to the same boarding school she attended.
Suddenly taken from a world of malls, mobile phones, en-suite wet-rooms, designer clothes and sophisticated boys, Gina is suddenly forced to find her way through games of hockey, communal meals and showers, horrible public schoolboys and stuffy housemistresses.
Will she ever survive? Her dorm buddies might just help - they're a strange bunch but they seem to be good fun ... And there are always the boys from the local school to help keep them entertained.
Information
Format: Paperback
Pages: 336 pages
Publisher: Random House Children's Publishers UK
Publication Date: 03/07/2008
Category: General
ISBN: 9780552557061
Free Home Delivery
on all orders
Pick up orders
from local bookshops
Reviews
Showing 1 - 2 of 2 reviews.
Review by Nitestar
16/06/2015
I had read Carmen Reid's adults novel in the past and was quite excited when I saw that she had written a YA novel.This is the story of "Yank" girl Gina who is sent to Scotland, by her mom, to study and live at a boarding school. Gina's mom, who studied at the school when she was a teen, hopes that it will give Gina some much needed structure and teach her that life is not all about clothes and boys.Gina, who is less than happy about this soon finds herself liking her 3 bunk mates and what follows is a great read.All of the characters in this YA novel are immediately likable (okay with a few exceptions!). The description of the boarding school and of the "Daffodil room" made me feel as though I was right there. I instantly liked all of the girls, including Amy. All of the main characters are extremely diversed but, somehow, they all gravitated to each other and managed to get into all kinds of hilarious situations together. What I also liked about this book is that while each of the girls play to their own strengths, there is no petty jealousy or evil plotting and gossiping against each other - although this book does touch on some serious issues (finally! an English book that gives a clear definition of the word snogging!!! - I always wondered exactly what that word meant and I now know), the book never gets bogged down into the standard corny, overly serious stuff.Of course, there are dances and boys and more boys and lots of talk of clothes, etc. (ah to be 15 again!) but the author manages to blend both the petty teen stuff with the more adult issues (drinking, relationships and more importantly, friendships).I really, really enjoyed this book and up to the very last page, I was praying that there would be some hint as to whether this book may possibly turn into a series....I can't give it away, you will have to read it yourself, but this is definitely a great read
Review by wyvernfriend
16/06/2015
Gina's mum is tired of dealing with some of Gina's excesses and sends her to the boarding school she attended, which is a complete culture shock for Gina. Gina is a Californian mall-rat and Edinburgh is a completely different world. Uniforms are the least of her culture shocks. Although it's an all girls school, they're close enough to Edinburgh to spend part of their weekends there. It's pretty typical stuff. The characters are nicely varied and overall it's not a bad read, I'll be reading more in this series.I'd class it as probably close to a modern Chalet School story.
Also in the Secrets at St Jude's series | View all