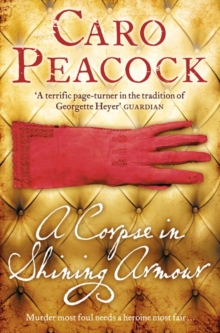 A Corpse in Shining Armour
Paperback
Description
Duelling, derring-do, and dastardly deeds are all in a day's work for Liberty Lane: the plucky heroine for fans of Georgette Heyer and Sarah Waters's Victorian novels.London.
Summer 1839. And the temperature is rising as Liberty Lane takes on her strangest case yet.Deranged aristocrat Lord Brinkburn is nearing death and his elder son, Stephen, is expecting to inherit the title.
But Lady Brinkburn's sudden announcement that Stephen is illegitimate throws the family into turmoil.
Tensions reach boiling point between the two brothers, one of whom stands to gain everything, and they come to blows in public - much to the amusement of London Society.Liberty is engaged privately to get to the truth of the matter, but a macabre murder raises the stakes considerably...added to which she finds her own judgement being undermined by the beguiling Lady Brinkburn.
She is only too aware that time is running out - one of the brothers may be next, but which will it be...?
Information
Format: Paperback
Pages: 448 pages
Publisher: HarperCollins Publishers
Publication Date: 01/06/2009
Category: Historical mysteries
ISBN: 9780007244249
Free Home Delivery
on all orders
Pick up orders
from local bookshops
Reviews
Showing 1 - 3 of 3 reviews.
Review by ilurvebooks
16/06/2015
Really enjoyed this Victorian thriller an easy and enjoyable read
Review by nocto
16/06/2015
I decided to read the third in the series shortly after the second before I forgot about it again. Disappointed to find no sign of a fourth book in the series yet.Early Victorian London; jousting is the latest craze among young aristocrats & a paternity question arises between the two sons of a dying Lord. Liberty Lane steps in to investigate. Fun. I guessed one of the twists but it's well plotted and that didn't matter. Occassional anachronous-ish foresight by the characters - as when they think it would be nice to have a test for paternity like scientists test for acids & alkalis - just adds to the entertainment.
Review by AdonisGuilfoyle
16/06/2015
The third novel in Caro Peacock's Liberty Lane series, about a Victorian lady detective in London. Although <i>A Corpse in Shining Armour</i> is another solid mystery with a surprising twist in the final chapters, the narrative is slower paced than in the previous book, and Liberty seems to have transformed over the space of a year from a curious young woman into a seasoned private intelligencer. Still satisfying, but lacking the personal angle of the first two books.Disraeli asks Liberty to investigate an aristocratic family squabble involving a mother who allegedly wants to disown her eldest son. The Brinkburns are almost gothic in their dysfunctional antics - Lord Brinkburn, estranged from his wife and sons, is slowly dying from third stage syphilis in a private asylum; Lady Brinkburn fancies herself as a romantic heroine, abused by her husband and locked away in the family home; and the two sons are fighting over the inheritance. When Lady Brinkburn claims that eldest son Stephen is not the legitimate heir to his father's title and estate, all hell breaks loose, and Liberty must try and make sense of their tangled schemes. The tension increases when a dead body is unpacked instead of the family suit of armour.I enjoyed the mystery, even though we never really get a chance to connect with any of the characters. And yet Caro Peacock somehow manages to avoid the usual cliches and stereotypes of detective fiction - the cockney urchin, the garrulous socialite, the kindly lady of the manor - by weaving personality and subtle detail into the narrative. Flighty Celia, Liberty's former student from the first novel, provides delightful comic relief, and Tabby is sure to make a suitable sidekick for the lady detective. I was hoping for a closing line about Daniel and Jenny's baby, just because I like Mr Suter, but I wasn't too disappointed with how everything turned out! Another entertaining and well written historical mystery.