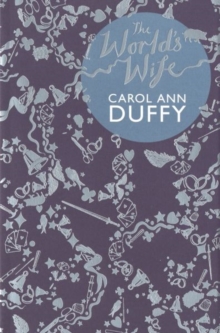 The World's Wife
Paperback
Description
That saying? Behind every famous man ...? From Mrs Midas to Queen Kong, from Elvis's twin sister to Pygmalion's bride, they're all here, in Carol Ann Duffy's inspired and inspirational collection, The World's Wife.
Witty and thought-provoking, this is a tongue-in-cheek, no-holds-barred look at the real movers and shakers across history, myth and legend.
If you have ever wondered, for example, how exactly Darwin came up with his theory of evolution, or what, precisely, Frau Freud thought about her husband -- then this is the book for you, as the wives of the great, the good, the not so good, and the legendary are given a voice in Carol Ann Duffy's sparkling and inventive collection. 'Carol Ann Duffy is a poet of skill, talent and great heart' Erica Wagner 'Duffy takes a cheeky, subversive, no-nonsense swipe with a dish clout at the famous men of history and myth.
They don't have a chance in hell of dodging her quick-witted wallop as she relays their stories from their spouse's points of view' The Times 'Poignant, thoughtful, funny, rich and accessible' Ruth Padel, Guardian, Books of the Year
Information
Format: Paperback
Pages: 96 pages
Publisher: Pan Macmillan
Publication Date: 01/09/2000
Category: Poetry by individual poets
ISBN: 9780330372220
Other Formats
Paperback from £6.39
EPUB from £7.98
Free Home Delivery
on all orders
Pick up orders
from local bookshops
Reviews
Showing 1 - 4 of 4 reviews.
Review by herschelian
16/06/2015
A book of poems about the women who are married to men famous in history and fable - Mrs Faust, Mrs Aesop, Mrs Quasimodo, Mrs Midas. Wonderful images, thought provoking, warm and witty but with a steel edge under the velvet.
Review by elmyra
16/06/2015
This book was in turns witty and poignant. Thoroughly enjoyed it.
Review by AndrewBlackman
16/06/2015
I picked up a free copy of this in New Beacon Books – there was a stack of them left over from World Book Night earlier this year. It's a collection of poems all on the same theme of overturning male-centred history, literature and myth, and looking at familiar stories from the neglected wife's perspective. So, for example, we have Mrs Aesop tiring of her husband's constant boring fables, and Delilah explaining why she cut off Samson's hair (he'd complained to her that he didn't know what it was to be gentle, and so she'd done it to help him change, to take away the pressure of always having to be strong). There are also more modern characters, like Frau Freud, the Kray sisters, and Elvis's twin sister.There's a playful, humorous tone to the poems, and I enjoyed reading them on a quiet afternoon recently in a sun-drenched beer garden. A lot of them had the same basic premise, of a wife wryly mocking her husband's posturing and self-aggrandisement, and this got a bit repetitive after a while. My favourite poems were those that truly brought a new twist to a familiar story, imputing new and more interesting motives to the characters, as in the Delilah example already mentioned, or my favourite of all, Queen Herod. In this poem, we learn that it wasn't the King who ordered the killing of all first-born male children after all, but the Queen, who does it to protect her own newborn daughter: "No man, I swore, will make her shed one tear." I found it a powerful and poignant reworking, and loved the last few lines: We do our best, we Queens, we mothers, mothers of Queens. We wade through blood for our sleeping girls. We have daggers for eyes. Behind our lullabies, the hooves of terrible horses thunder and drum.
Review by shanaqui
16/06/2015
Funny, dark, brilliant. Some of them more so than others. I like "Anne Hathaway" the best, probably, but am very fond of "Salome".