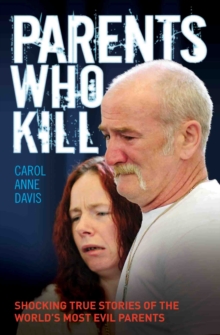 Parents Who Kill
Paperback
Description
In Parents Who Kill, renowned crime expert Carol Anne Davis explores the motives behind the act which flies in the face of all reason and instinct.
This timely study examines some of the most harrowing cases documented in recent legal history, ranging from tragic negligence to more culturally specific instances of religious honour killings for 'sexual deviancy'. Updated to include analysis of the most recent case of Mick and Mairead Philpott, who killed six of their children after setting fire to their own home, Davis casts a forensically objective eye over powerful themes encompassing jealousy, insanity, greed and everything in between.
But this is more than jut a study in the macabre. Davis shows great compassion and insight to reveal the psychology behind disability, mercy killings and post-natal depression, whilst in the final conclusion she proposes solutions to these issues and potentially life-saving avenues of help. Parents Who Kill is the complete compendium for anyone seeking to answer the hardest question: 'What could possibly turn a parent into a killer?'
Information
Format: Paperback
Pages: 288 pages
Publisher: John Blake Publishing Ltd
Publication Date: 05/08/2013
Category: True crime
ISBN: 9781782197287
Free Home Delivery
on all orders
Pick up orders
from local bookshops
Reviews
Showing 1 - 1 of 1 reviews.
Review by justablondemoment
16/06/2015
When I was a young girl I had a classmate that always smelled,hair was messy and oily,clothes dirty and she never failed to bring this suitcase filled with toys and things from her home with her to school. At the time, being so young, I didn't understand. One day I asked her why do you bring a suitcase to school? I will never forget her answer she told me in case someone wanted to take her home and love her she would have all her things ready and could go with them right away.(can you say WOW!!!! ) I went home and asked my mom what she meant and she told me not all children had good loving homes where they were safe and wanted. As I aged I never forgot her and eventually social work is what I became interested in. I think a part of me always wanted to find that little girl a loving home.This book brought tears to my eyes just as the "suitcase girl" does every time I think back to her.