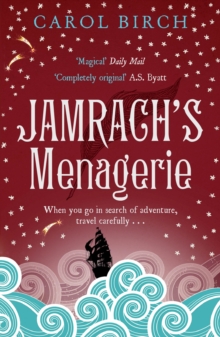 Jamrach's Menagerie
Paperback
Description
SHORTLISTED FOR THE MAN BOOKER PRIZE 2011 Young Jaffy Brown never expects to escape the slums of Victorian London.
Then, aged eight, a chance encounter with Mr Jamrach changes Jaffy's stars. And before he knows it, he finds himself at the docks waving goodbye to his beloved Ishbel and boarding a ship bound for the Indian Ocean.
With his friend Tim at his side, Jaffy's journey will push faith, love and friendship to their utmost limits.
Information
Format: Paperback
Pages: 352 pages
Publisher: Canongate Books Ltd
Publication Date: 01/09/2011
ISBN: 9781847676573
Other Formats
CD-Audio from £17.95
EPUB from £5.39
Free Home Delivery
on all orders
Pick up orders
from local bookshops
Reviews
Showing 1 - 5 of 10 reviews.
Previous | Next
Review by Eyejaybee
16/06/2015
I found this noel immensely disappointing.After a marvellous opening in which an eight year old boy stumbles across a tiger wandering through the streets of Victorian London it rapidly declined into unutterable tedium, with an unfortuante preponderance of graphically-described vomiting. Still, that is how I started to feel as I carried on with this book, too!
Review by polarbear123
16/06/2015
Agree with one of the reviewers who said that this book would stay with them. Me too. You could see this novel as a love story in a traditional sense but it is much more than that. The detail is incredible and in some of the more intense parts of the plot you really do feel you are there where it is all happening. This book will involve you make no mistake about it and at times it is not pleasant but I can't remember reading such vivid passages for a while. Good stuff!
Review by Mumineurope
16/06/2015
Trip to catch a dragon, many pages once shipwrecked returning home.
Review by SandDune
16/06/2015
If you'd asked me to predict which of the Booker short list I would have most enjoyed I would have suggested this one. In the end I enjoyed it, but it didn't quite grab me as I was expecting. Eight year old Jaffy, very new to the neighbourhood of Ratcliffe Highway in London, encounters a tiger on the street, and reaches out to stroke it. I loved the way that the uneducated and inexperienced Jaffy assumes that the tiger was a normal resident of his new home, an area where exotic birds are sold:<i>'Just as the birds of Bermondsey were small and brown, and those of my new home were large and rainbow-hued, so it seemed that the cats of Ratcliffe Highway must be an altogether superior breed to our scrawny south-of-the river mogs. This cat was about the size of a small horse, massively chested, rippling powerfully about the shoulders. He was gold and the pattern painted so carefully all over him, so utterly perfect, was the blackest black in the world' </i>The tiger picks him up in his jaws but not being hungry, drops him unharmed. To make amends for his experience, Jamrach, an importer an exporter of exotic animals, from whom the tiger has escaped offers him a job caring for the animals of his menagerie. And there Jaffy stays until he's grown, making friends and being teased in turn with Tim, Jamrach's existing keeper, and falling in love with Ishbel, Tim's nail-biting twin sister. When the chance comes to go on a sea-voyage to bring back a semi-mythical dragon (evident to the reader as a Komodo dragon) both Jaffy and Tim jump at the chance. But perhaps capturing a dragon is as unlucky as killing an albatross and things start to go badly wrong.I felt like I should have liked this more than I did. The book splits into three main sections and while I liked the first section in London and was interested in the second section about catching the dragon (I've always had a bit of a thing about Komodo dragons), the third section (which is quite gruesome) didn't hold my interest as much. Somehow, the horror of the situation in which the characters found themselves didn't quite ring true for me.
Review by imyril
16/06/2015
Not at all what I expected from the blurbs, and deeply scarring. Don't make my mistake - reading it back to back with Life of Pi (hey, two books about boys and shipwrecks; oh, and the other thing) will not leave you in a happy place.