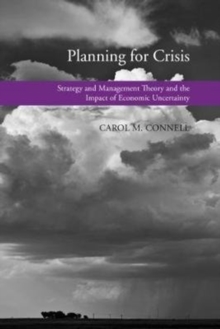 Planning for Crisis
Hardback
Description
The seven decades since the Second World War have been characterised by a series of international economic crises, indeed we remain in the grip of its most recent.
They impact on all parts of the economy balance of payments, inflation, employment, productivity and on all areas of economic activity, directly affecting business behaviour.
Since most economic crises are unexpected, how do individual organizations plan for them?Through an in-depth analysis of the professional literature, Carol Connell investigates how theorists have used the economic recessions that defined their time to inform strategies for institutional management and growth in times of crisis.
She shows that the postwar period saw an ever-growing body of research and theory from economics, the behavioural and social sciences, finance and business management, devoted to avoiding or limiting the effects, at the organizational level, of such economic downturns.
Those theorists who applied frameworks for verifying change, assessing risks, or applying game theory, she shows, had the most to offer organizations, but those who played a public policy role also made a significant contribution to living with economic uncertainty. The period under study includes the financial crisis of the 1960s and early 1970s, the stagflation crisis of the mid-1970s and mid-1980s and the financial crisis of 2008/9, and offers comprehensive coverage of the theories and ideas that had a major influence on the way organizations have sought to deal with economic crises.
It will be of interest to business economists and economic historians as well as students of management, organization theory and firm behaviour.
Information
Format: Hardback
Pages: 320 pages
Publisher: Agenda Publishing
Publication Date: 30/12/2017
Category: Financial crises & disasters
ISBN: 9781911116059
Free Home Delivery
on all orders
Pick up orders
from local bookshops