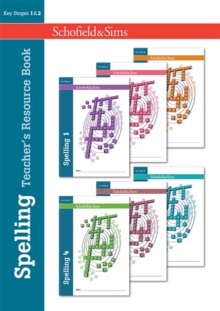 Spelling Teacher's Resource Book: Years 1-6, Ages 5-11
Paperback / softback
Description
Ideal for whole-school use, the Schofield & Sims Spelling programme gives pupils extensive practice in using their phonic knowledge to spell words, preparing them for the English grammar, punctuation and spelling tests towards the end of Key Stage 2.
The pupil books systematically introduce and revise spelling conventions, explore word structure and the relationship between words of shared origin, suggest strategies for remembering common 'exception words' (or 'tricky words'), teach pupils how to monitor their own spelling, and encourage them to write sentences from memory or dictation. Based on the model 'teach - practise - apply - assess', Schofield & Sims Spelling is a comprehensive and high-quality programme that helps all pupils to develop and consolidate their spelling skills, significantly improving their results in the national tests. This Teacher's Resource Book provides an invaluable collection of copymasters that support teaching, learning and assessment, including: resources for revision and extension work; reminders and prompts - which encourage pupils to use spelling strategies when writing; assessment and record-keeping resources to support on-going and periodic assessment.
Some of the copymasters are for use at a specific stage, while others are generic.