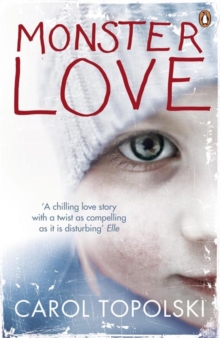 Description
Shortlisted for the Orange Prize for Fiction, Monster Love by Carol Topolski is a dark and deathly literary thriller.'I've kicked myself that I didn't do anything about it then.
I've often thought, what if I had? Would she be alive now?' Charlotte, neighbour'I wonder at how gullible I was . . . because when I asked them if I could see Samantha, just for the record, she said she was playing at the rec with her friends and I just went Oh, OK' Kaye, social worker'You see it all the time in videos and that, but until you're in the room with them you don't really know what it means' Sharon, jurorNo one in the neighbourhood has seen the Gutteridges' little girl Samantha for months.
But Brendan and Sherilyn look happier that ever, so nothing is wrong.
Is it?For the Gutteridges, Samantha was just a thing that threatened to worm its way into their perfect love.
For everyone else, her story is the stuff of tabloid headlines.
But this time it's not in a newspaper, it's happening right next door . . . 'Haunting . . . will have you hooked from the very beginning. If you liked We Need to Talk About Kevin you'll love this' Harper's Bazaar'A chilling love story with a twist as compelling as it is disturbing' ElleCarol Topolski is a psychoanalytic psychotherapist.
Her many previous roles include working on the Woodstock festival, in advertising, and as a prison teacher, nursery-school director, director of a rape crisis centre and refuge for battered women, probation officer and film censor.
She lives in London and is married with two daughters and two grandchildren.
Monster Love was shortlisted for the 2008 Orange Prize for Fiction.
Her second novel, Do No Harm, is available in Penguin.
Information
Format: Paperback
Pages: 272 pages
Publisher: Penguin Books Ltd
Publication Date: 28/08/2008
ISBN: 9780141033389
Free Home Delivery
on all orders
Pick up orders
from local bookshops
Reviews
Showing 1 - 2 of 2 reviews.
Review by bibliobeck
16/06/2015
Absolutely harrowing but addictively gripping is the best way I can describe this book. Like other reviewers, there were times when I wondered if I'd be able to finish the book, but I could not resist returning to it again and again. The terrible story of a child's murder is told from the viewpoint of multiple persons - neighbours, family & colleagues of the murderous parents,as well as the parents themselves, and each voice is so convincing. The author has an astonishing ability to be able to write from the viewpoint of any character and convince us utterly that they are male or female, prison officer or abused wife. I was not at all surprised to read that the author has a background in psychoanalysis. This book is absolutely saturated in Freudian theory. Unresolved parental conflicts, Oedipal abuse, classic defence mechanisms such as denial and regression (the protagonists sledging down the stairs on duvets, and Brendan's repeated enuresis during stressful times). Bowlby's ideas about maternal deprivation are realised as both Brendan and Sherilyn are presented as cold affectionless psychopaths. In fact the only people they ever get close to are each other, so close in fact that by the end of the book they no longer need each other's corporeal presence - instead they have all but merged into one person despite being separated in space. The monster love of the title could refer to almost any character - most obviously Brendan and Sherilyn, but also the obsessively doting love of Sherilyn's mother for her sister, the monster that is Brendan's father: even the minor players such as James the paedophile seem to have encountered such monsterous love during their formative years that they are damaged forever. The whole messy family business brings to mind Larkin's 'This Be The Verse'. Horrific, unsettling and utterly compelling. As difficult as the subject matter is, I'd definitely look for more work by this author.
Review by Booksloth
16/06/2015
Monster Love wasn't a book I would normally have picked off the shelf but it came highly recommended by a friend whose reading judgement I trust so I was willing to give it a try. It was the slightly fuzzy photo of the angelic-looking child on the cover that put me off initially as it looked suspiciously like another example of misery-lit. In the end, I was so glad it had been recommended to me. This is a well-crafted novel about the aftermath of a child cruelty case. It soon becomes clear that the protagonists have appeared in court on cruelty charges involving their baby daughter. The story is told from the point of view of neighbours, social workers, police etc - all the people who have, in one way or another, been involved in the case. It isn't, however, one of those books that fights to get a tear of sympathy or a shriek of horror from the reader. It is subtle and understated and left me reeling. In many ways it reminded me of my favourite ever 'nasty little book', The Collector by John Fowles. It's several weeks now since I read Monster Love and it still haunts me.
Also by Carol Topolski