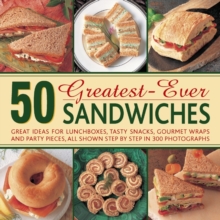 50 Greatest-ever Sandwiches : Great Ideas for Lunchboxes, Tasty Snacks, Gourmet Wraps and Party Pieces
Hardback
Description
This title contains great ideas for lunchboxes, tasty snacks, gourmet wraps and party pieces, all shown step by step in 300 photographs.
You can create fresh and tasty sandwiches that are perfect for parties, picnics, lunch or snacks.
It includes all the classic sandwiches such as BLT, Croque Monsieur, Welsh Rarebit, Club Sandwich, Bagels and Lox, as well as sandwiches from other countries such as Pan Bagna, Salami Hero, and Herring and Apple on Rye.
It features an illustrated section on the breads, filling ingredients, seasonings, sauces, herbs, dressings, equipment and garnishes.
It features 50 recipes, illustrated with over 300 photographs.
It includes hot toasted sandwiches, hearty sandwiches, open sandwiches, elegant sandwiches for adults, and fun, novelty sandwiches for children.
It features unusual combinations such as Frankfurter and Potato Salad and Oriental Chicken Sandwich.
The sandwich was popularized when the Earl of Sandwich, in the 18th century, found it a convenient way to eat his meat while playing cards.
Since then, it has undergone many transformations from the original concept of slices of bread enclosing a tasty filling. This book shows how to use a wide range of breads to make all types of sandwiches: white, brown, rye, focaccia and ciabatta, in rolls, baps, tacos, bagels, pumpernickel, brioches, baguettes, and even croissants.
Hot and cold sandwiches come in all types, shapes and sizes, including Sandwich Horns, Spicy Chicken Canapes, Smoked Salmon Pinwheels, Kofte in Pitta Pockets and Tostadas with Refried Beans.
Sandwiches are perfect for suppers and snacks, as well as for parties, picnics or lunches.
There are novelty sandwiches such as Sandwich Train, Sailing Ships, Log Cabin and Wigwams that will appeal to children.
When you haven't got much time, ideas for a well stocked store cupboard help you rustle up a sandwich quickly.
Information
Format: Hardback
Pages: 96 pages, over 300 photographs
Publisher: Anness Publishing
Publication Date: 30/04/2013
Category: Cookery dishes & courses
ISBN: 9780754826873