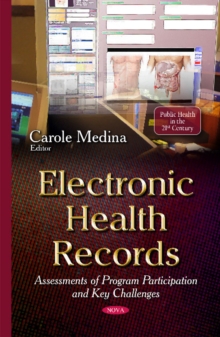 Electronic Health Records : Assessments of Program Participation & Key Challenges
Hardback
Description
The Health Information Technology for Economic and Clinical Health (HITECH) Act established Electronic Health Record (EHR) programs.
These programs provide incentive payments for -- and later are expected to apply penalties to -- certain providers, such as hospitals and professionals, to encourage them to demonstrate meaningful use of certified EHR technology and meet other program requirements.
Based on the number of providers awarded incentive payments, participation in the Department of Health and Human Services' (HHS) Medicare and Medicaid Electronic Health Record programs increased substantially from their first year in 2011 to 2012.
This book assesses the extent of current and expected participation in the EHR programs; examines information reported by providers and others to measure meaningful use in the EHR programs; evaluates HHS efforts to ensure that EHR data can be reliably used to measure quality of care; and evaluates HHS efforts to assess the effect of the EHR programs on program goals related to adoption and meaningful use of EHRs and improved outcomes.