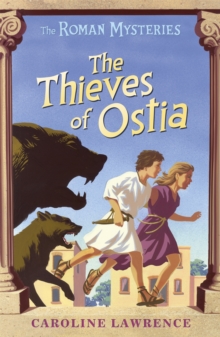 The Roman Mysteries: The Thieves of Ostia : Book 1
Paperback
Description
The first in Caroline Lawrence's internationally bestselling Roman Mysteries series, re-issued with a fantastic new cover look.
Flavia Gemina is a natural at solving mysteries. The daughter of a ship's captain living in Ostia, the port of Rome, in AD79, she and her three friends, Jonathan, a Jewish boy (and secretly a Christian); Nubia, an African slave girl; and Lupus, a mute beggar boy, must work together to discover who is beheading the watchdogs that guard people's homes, and why.A talented storyteller, Caroline Lawrence has created a delightfully readable and accessible series that children will want to read time and time again.
Free Home Delivery
on all orders
Pick up orders
from local bookshops
Reviews
Showing 1 - 4 of 4 reviews.
Review by CaroTheLibrarian
16/06/2015
An excellent whodunnit for kids set in Ancient Rome. Flavia Gemina, daughter a sea captain become embroiled in mystery and intrigue when she and her friends discover that someone is killing local dogs. This is fun adventure for anyone aged 8+, with lots of fascinating snippets about life in Rome, alongside the main plot. It's the first in a series of 15 books, and has been televised by the BBC.
Review by ReadingPenguin
16/06/2015
This is a fun little mystery book for pre-teens. In it, a roman girl called Flavia, a slave-girl called Nubia, a Christian boy called Johnothon, and a mute begger boy called Lupus all join together to find out who killed Johnothon's dog. It is a fun, but not very challanging, mystery. It covers Roman life very well, and most of the places in the story are actually there, adding a sence of realism to the story. I have read the book or listened to the audiobook more times then I can count! Not for older people unless they are already hooked with other Roman Mystery books, but good for 9-11 kids who love reading and are willing to read 18 books to find out what happens at the end! (14 have come out, only four to go, which means two years until the last book!)
Review by shsunon
16/06/2015
Intelligent, fearless Flavia loves to solve mysteries. Nubia, a slave girl purchased by Flavia, speaks only Greek; Flavia teaches her Latin and the reader learns Latin as well. Jonathan is a Jewish boy whose family tries to keep a low profile so that they can live and worship in peace! An observant, mute beggar boy, Lupus, had a talent for art expression. These four friends encounter violence and adventure---imagine being chased by henchmen whose goal is to capture and sell the children as slaves. Imagine coming home and finding that your watchdog has been beheaded. Or hiding in a tree surrounded by feral, angry dogs! Three of the friends learn an important lesson about forgiveness. This novel is the first in a series of Roman mysteries;it is set in Ostia, port of Rome, in A.D.79.
Review by Breony
16/06/2015
Simple but effective, accepting of all people from all backgrounds, slaves, homeless, people from different religions. Contains religious quotes from the christian faith. An interesting book. Contains some mild horror - dead dogs, man commits suicide. Describes life in Rome AD 79.
Also in the The Roman Mysteries series | View all