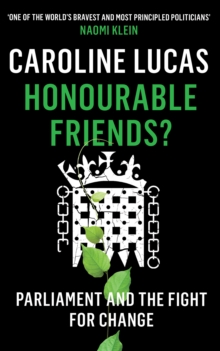 Honourable Friends? : Parliament and the Fight for Change
Paperback
Description
Caroline Lucas is an outsider, inside, fighting for parliamentary reform and for the interests of her constituents.
She is a politician with a radical mission and a clear vision of how change can be achieved.
From the NHS to corporate tax evasion, from climate change to immigration, Honourable Friends? tells the story of 5 years in Westminster and offers bold and practical suggestions for a fairer British political system.
It is a unique book by a unique politician and activist.
Information
Format: Paperback
Pages: 304 pages
Publisher: Granta Books
Publication Date: 05/03/2015
Category: Biography: general
ISBN: 9781846275937
Free Home Delivery
on all orders
Pick up orders
from local bookshops
Reviews
Showing 1 - 2 of 2 reviews.
Review by the.ken.petersen
16/06/2015
This is a great book, you should read it. Well, I would say that, wouldn't I? Caroline is the joint leader and only MP of the political party that has my support. I not only cannot, but would not wish to gainsay anything there but, I still maintain that you ought to read this book, whether you are a fellow Green, or intend to vote for one of the "main" parties or even UKIP or something else. I have yet to meet Caroline but, one only has to watch her on TV, listen to her upon the radio or read her words in this book, to know that she is the sort of person who faces life with a smile, likes to think the best of people but, I would imagine, would not be a wise person to cross. Throughout this book, she looks for the best and her criticisms of the current political system and very occasionally named politicians, always comes with a practical and positive solution. Don't read this book thinking that you will get a good laugh at the "away with the fairies" Greens; this is a rapier sharp dissection of the current state of Parliament along with the basis for reforming the system so that it, once more, has relevance to the electorate.As a white, middle aged British chap, it is at times uncomfortable to see how women and - I was going to say other minorities, which supports the point that I am about to make - are discriminated against; often in a casual almost unintended way. My faux pas with regards to women being a minority being a classic example. Fortunately, both women and minorities are beginning to get a louder voice and I believe that change is inevitable. The only question is, how hard do we make it for all people to be treated with the dignity that they deserve?The book also touches upon another concept which we need to be discussing as a society: that is what do we do when the growth stops? The current system is built upon the premiss of constant growth. Those few people questioning this are dismissed as simpletons not understanding "the grown ups" economics. Well, can anyone who has really thought about it, really believe in constant growth? Even the universe is expected to hit a maximum size at some stage and begin to contract. The idea that growth can continue ad infinitum, is as silly as the belief in the tooth fairy clearing the national debt. Finally, I issue a challenge to everyone to read this book and not see some of the changes that are needed to set this country back on course. The arguments are so well set out that I do not believe that anybody would be able to complete the task without finding many points of agreement. Mark Steel accused Caroline of bringing politics into disrepute because everyone knows that politicians are meant to be devious, self-serving entities: I think that she might be bringing the human race into disrepute: can't she find something that she isn't able to do well?
Review by KateVane
27/08/2015
This is Caroline Lucas' account of five years as a Green MP. In it she covers the key areas of her work and outlines her beliefs. She also casts a critical eye over the arcane procedures of Parliament, and more importantly, the ways in which the institutions of state maintain the status quo.This is an enjoyable and engaging read. You feel as if she's in the room speaking to you. If you are new to Green politics, it's a good introduction. For me, this is pretty familiar territory, but still, it's good sometimes to go back to first principles, to hear someone articulate why the war on drugs isn't working, or how patronage in the House of Commons stifles change or that a multinational was so powerful that it not only took out injunctions preventing reporting of its polluting behavior, but of the very fact the injunction existed.It's also reassuring when you embrace a minority political view to know you're not alone. (Although it might be argued it's not such a minority view, when voteforpolicies.org asked people to choose policies they liked without knowing whose they were, the Greens' came out on top.)Lucas covers key issues – climate change, housing, public ownership of rail and health. She also addresses some personal experiences, some serious, some almost farcical, like being told she had to cover up her 'No More Page 3' T-shirt during a debate, while conversely newspapers carrying photos of bare-breasted women are freely available throughout Westminster. She also talks about her arrest at an anti-fracking protest at Balcombe and subsequent acquittal.She refers in passing to the difficulties of being a singleton MP, without the support of a party machine, and the need to build alliances with small parties such as the Scottish National Party and Plaid Cymru. She also refers to the work she's done with other independently minded MPs. This can make for strange bedfellows. She describes whispering in a corridor with then Tory (now UKIP) MP Douglas Carswell. It might have been interesting though, to have more on what those pressures has meant for the party. It's interesting that she is no longer leader of the Green Party, that she felt unable to continue in both roles. Elsewhere she has credited party leader Natalie Bennett with improving the party organisation and overseeing the massive growth in membership, but sadly Bennett is not as good at media as Lucas, and even more sadly, for many people that counts for as much as policy. But perhaps that's for a different book. Or perhaps she thought it would alienate people if the book looked inward at party machinations.It was interesting for me that she tackled head-on the concern of many who share her beliefs that nothing can be achieved through Parliament. It seems whoever is in government is in thrall to the corporations, with the institutions of state dancing to their tune with varying degrees of enthusiasm (Cameron et al positively salivating as they carve up the NHS or flog off Royal Mail). The first-past-the-post electoral system means that a vote for a small party can feel like a 'wasted' vote. Faced with a choice of 2½ neoliberal parties (as George Galloway memorably put it, three cheeks on the same backside) many people feel they can't bring themselves to hold their nose and vote for any of them. She argues that it is possible to be an 'outsider on the inside'. Her argument, inspired by Petra Kelly, the German Green, is that change can come by working both inside and outside Parliament. She has certainly raised important issues and got them attention and forged alliances with pressure groups and activists. At the time of writing, Parliament has just been dissolved and we are 37 days from the General Election. It is by no means certain that Lucas will retain her seat. It is clear that she hopes to, and that the Greens can be part of what she calls a progressive alliance with Labour, the Nationalists and even (at a push) the Liberal Democrats. I hope she is there to continue putting issues on the agenda.