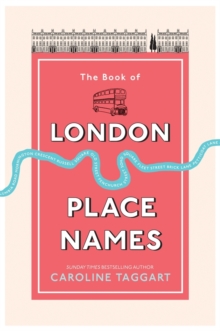 The Book of London Place Names
Hardback
Description
Ever wondered if Cheapside really is cheap, what you do in Threadneedle Street, or who the knights of Knightsbridge were?
Did you know that Piccadilly is actually an insult? And that Euston Road was built because there were too many cows on Oxford Street? Or that the River Fleet was covered over partly because of a drunken butcher?
Take a trip down narrow lanes, through cobbled streets and crowded markets to discover the meanings behind the city's place names.
Meet forgotten residents whose names survive in the places where they lived and uncover tales from London's murky past that have shaped the modern city.
From famous landmarks to forgotten rivers, grand thoroughfares to lost palaces, and ancient villages swallowed up as the city grew, Caroline Taggart explains the hidden meanings behind familiar places.
If you have ever wanted to learn more about the history of London and discover the people, events and stories that shaped our capital city, then come on a journey that will show you London in a new light...
Information
Format: Hardback
Pages: 288 pages
Publisher: Ebury Publishing
Publication Date: 26/04/2012
Category: Place names & gazetteers
ISBN: 9780091940454
Free Home Delivery
on all orders
Pick up orders
from local bookshops
Reviews
Showing 1 - 1 of 1 reviews.
Review by Nickelini
16/06/2015
During my trip to London this past summer, I was fascinated by the place names I noticed as I rode the Tube or looked at my map. I come from an area that was settled barely 150 years ago, so most of our names are reused from other places, many of them in the UK: Surrey, Richmond, New Westminster; First Nations names such as Tsawwassen and Matsqui; uninspired physical features, such as Aldergrove; or occasionally after people such as Vancouver and Victoria. It's all fairly straightforward and not very interesting. But London perplexed me. Is Moorgate the place were the Brits fought back invaders from North Africa? (if so, I don't remember learning that bit of history). Is Temple Bar a place where Jewish people went drinking after going to the synagogue? No! and Emphatically No!!! Moorgate simply means that when the gate was built in 1415, there were marshy moors outside of it. And Temple Bar refers to a physical bar that marked the city boundary that was put there by the Knights Templar. Why is there a place called Angel? (it comes from a coaching inn with that name that stood here in the 17th century). How "old" is Old Street? (older than you probably imagine--"street" in English comes from the Latin"strata", so this is an old Roman road, and was called this by the end of the 12th century). What's up with that stop at the end of the Piccadilly line (Cockfosters) that had my 16 year old snickering every time the recorded voice announced it? (Foster is Elizabethan for forester, Cock is the chief man or the leader). Oh, and Cheapside just means "market district" and not "deals" or "shoddy goods." But I guess living near a market was still way too lowbrow for the types of Caroline Bingley in Pride and Prejudice. I found this at the British Library gift shop, and have been reading it bit by bit ever since. It is well-researched and Taggart is careful to emphasize that often we just don't know, or can't know for sure, so she often gives multiple viewpoints. This book, which is 276 pages with index, is organized by area. In it, she blends toponymy, history, and trivia, which results in one of those books that entertains while it teaches. One thing I learned that really stood out for me is how street names can change fairly easily, depending on neighbourhood development, politics, and a hundred other factors, but area names don't change, and are very old. All language morphs, and so too with place names, but the basis for the name stays the same. One of the oldest names in Longon is Penge (which I admit I'm unfamiliar with) which is Celtic for "wooded hill." Surprisingly, the pre-Roman roots for London and Thames are not really known (although there are some theories), and while the Romans left behind walls and roads, they didn't leave many names. The strongest influence to London place names is the Saxons, and the <i>-ing</i> in Ealing, Wapping, Paddington, Kensington, Barking, and Tooting all show that these were areas controlled by an Anglo-Saxon chieftain who has otherwise been lost to history. Fascinating stuff. <b>Recommended for:</b> history, geography, and trivia buffs, Londonophiles, people who like to learn about words.