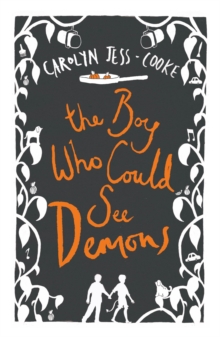 The Boy Who Could See Demons
Paperback
Description
I first met my demon the morning that Mum said Dad had gone. 'My name is Alex. I'm ten years old. I like onions on toast and I can balance on the back legs of my chair for fourteen minutes.
I can also see demons. My best friend is one. He likes Mozart, table tennis and bread and butter pudding.
My mum is sick. Ruen says he can help her. Only Ruen wants me to do something really bad. He wants me to kill someone.'
Information
Format: Paperback
Pages: 400 pages
Publisher: Little, Brown Book Group
Publication Date: 24/04/2012
ISBN: 9780749953133
Free Home Delivery
on all orders
Pick up orders
from local bookshops
Reviews
Showing 1 - 2 of 2 reviews.
Review by edjane
16/06/2015
I received 'The Boy Who Could See Demons' by Carolyn Jess-Cooke in exchange for a honest review. Touted as a psychological thriller, the story is about a 10-year-old boy that sees demons. Child psychologist, Anya Molokova, tries to help the 10-year-old boy that she believes suffers from early-onset schizophrenia. The first line immediately grabs the reader with the tantalizing line uttered by Alex, the 10-year boy that sees demons: "People look at me funny when I tell them I have a demon." The book is written with alternating chapters narrated by Alex and Dr. Molokova, describing their point-of-views for the same situation. The reader gets to know how Alex views what happened, and how Dr. Molokova interprets it. Alex is convinced he sees demons everywhere and one in particular--his personal demon Ruen. Dr. Molokova, in the other hand is convinced on her diagnosis of early-onset schizophrenia. Both have baggage that leads them to have their beliefs. The reader is put in the position of trying to figure out which one is right. Is Alex right about demons being everywhere, tempting us, trying to make us do bad things? Or is Dr. Molokova correct about Alex suffering from mental illness. The book grabbed my attention from the first page. I liked Alex and Dr. Molokova's chapters distinct voices, each acting as the narrator for his or her chapter. Alex's jokes at the start of each of his chapters where a neat little diversion. It helped showcased him as a 10-year-old, except for him viewing demons, that was trying to figure out his world, albeit a harsh one. I loved the story until the last chapter. That is where the author lost me. I hate when an author pulls the trick this one did. I have no problems with being surprised. But I expect that thinking back to the chapters I read, I can say, "Ah, I missed the clues... this totally makes sense." Not with this book. The ending felt like the author decided how she would end the story, but did not bother to put the clues in the early chapters. More like referenced back to the early chapters to justify her ending. Hence my rating. Some might like it this way or have no problems how it was done, but I disliked it--it basically ruined the story for me. It is well written and if the ending had been done differently, I certainly would have given it five stars.
Review by bookwyrmm
27/08/2015
This is a wonderful, fictional look at mental illness in children...and Jess-Cooke delivers a stunning twist at the end. A really well-constructed read.