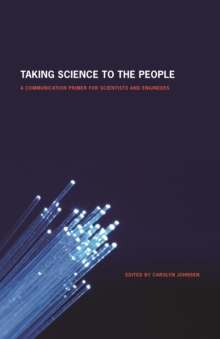 Taking Science to the People : A Communication Primer for Scientists and Engineers
Paperback / softback
Description
The American public, government, and the news media continually grapple with myriad policy issues related to science and technology.
Those issues include global warming, energy, stem-cell research, health care, childhood autism, food safety, and genetics, to name but a few.
When the public is informed on such topics, chances improve for reasoned policy decisions.
Journalists have typically bridged the gap between scientists and the public, but the times now call for more engagement from the experts.
The authors in this collection write convincingly about why scientists and engineers should shake off their ivory-tower reticence and take science to the people.
Taking Science to the People calls on scientists and engineers to polish their writing and speaking skills in order to communicate more clearly about their work to the public, policy makers, and reporters who cover science.
The authors represent a range of experience and authority, including distinguished scientists who write well about science, federal officials who communicate to Congress about science, and science journalists who weigh in with their own expertise.
In this long-overdue volume, scientists, engineers, and journalists will find both a convincing rationale for communicating well about science and many practical methods for doing so.
Information
Format: Paperback / softback
Pages: 120 pages, 3 illustrations, 1 table
Publisher: University of Nebraska Press
Publication Date: 01/11/2010
Category: Science: general issues
ISBN: 9780803220522