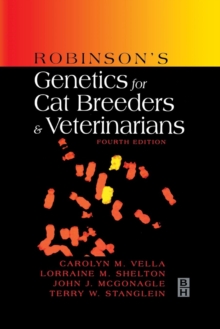 Robinson's Genetics for Cat Breeders and Veterinarians
Paperback
Description
The field of genetics has changed considerably since the first edition of Genetics for Cat Breeders was published in 1971.
For decades the discussion of genetics was limited to observations of populations but now geneticists are beginning to look at the actual molecular mechanisms behind the traits and diseases seen in the cat. Continuing the pioneering work of the late Roy Robinson, Carolyn Vella and her team of experts have significantly expanded the scope of previous editions to produce a work which is now of equal benefit to both veterinary surgeons and cat breeders.
Their aim has been to make the book more accessible and understandable whilst providing an impartial look at sometimes controversial and complex issues. The book retains the most important information published in previous editions and also incorporates some of the continuing work done by Roy Robinson prior to his death.
A considerable amount of new information has been added in order to provide both breeders and veterinarians with the broadest possible range of information.
The authors have not only reviewed the traditional sources of scientific literature and recently published studies, but have also conducted interviews with veterinarians, researchers and breeders. * The 4th edition of Roy Robinson's established text on cat genetics has been updated by a team of specialists to reflect a decade of changes and advances in genetic research * The authorship now includes a practising veterinarian as well as experienced cat breeders, thus making this new edition useful at both veterinary and breeder levels* New technical and historical appendices contain important reference material and a glossary has been added for ease of reference
Information
Format: Paperback
Pages: 272 pages
Publisher: Elsevier Health Sciences
Publication Date: 19/08/1999
Category: Genetics (non-medical)
ISBN: 9780750640695
Free Home Delivery
on all orders
Pick up orders
from local bookshops