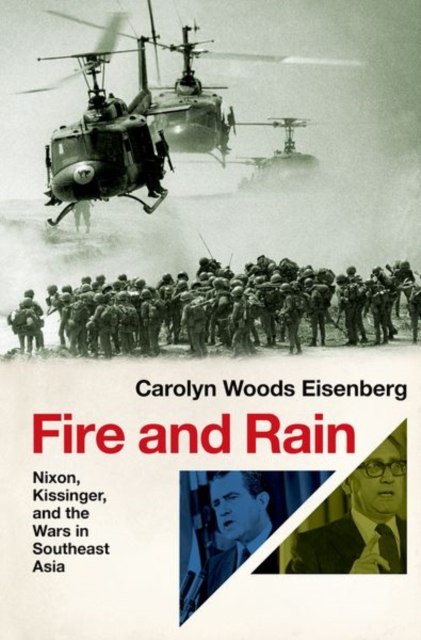 Fire and Rain : Nixon, Kissinger, and the Wars in Southeast Asia
Hardback
Description
This gripping account interweaves Nixon and Kissinger's pursuit of the war in Southeast Asia and their diplomacy with the Soviet Union and China with on-the-ground military events and US domestic reactions to the war conducted in Vietnam, Laos, and Cambodia. Fire and Rain is a compelling, meticulous narrative of the way national security decisions formed at the highest levels of government affect the lives of individuals at home and abroad.
By drawing these connections, Carolyn Woods Eisenberg brings to life policy decisions about Vietnam, Laos, and Cambodia, conveying their significance to a new generation of readers.
She breaks fresh ground in contextualizing Richard Nixon and Henry Kissinger's decisions within a wider institutional and societal framework.
While recognizing the distinctive personalities and ideas of these two men, this study more broadly conveys the competing roles and impact of the professional military, the Congress, and a mobilized peace movement. Drawing upon a vast collection of declassified documents, Eisenberg presents an important re-interpretation of the Nixon Administration's relations with the Soviet Union and China vis a vis the war in Southeast Asia.
She argues that in their desperate effort to overcome, or at least overshadow, their failure in Vietnam, Nixon and Kissinger made major concessions to both nations in the field of arms control, their response to the India-Pakistan war, and the diplomacy surrounding Taiwan--much of this secret.
Despite policymakers' claims that the Vietnam War was a "national security" necessity that would demonstrate American strength to the communist superpowers and "credibility" to friendly governments, the historical record suggests a different reality. A half-century after the Paris Peace Conference marking the withdrawal of US troops and advisors from Vietnam and foreign troops from Laos and Cambodia, Fire and Rain is a dramatic account of geopolitical decision making, civil society, and the human toll of the war on the people of Southeast Asia.
Information
Format:Hardback
Pages:624 pages, 1 black and white illustration
Publisher:Oxford University Press Inc
Publication Date:13/02/2023
Category:
ISBN:9780197639061
Information
Format:Hardback
Pages:624 pages, 1 black and white illustration
Publisher:Oxford University Press Inc
Publication Date:13/02/2023
Category:
ISBN:9780197639061