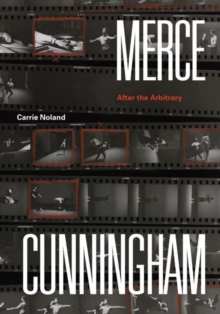 Merce Cunningham : After the Arbitrary
Hardback
Description
One of the most influential choreographers of the twentieth century, Merce Cunningham is known for introducing chance to dance.
Far too often, however, accounts of Cunningham's work have neglected its full scope, focusing on his collaborations with the visionary composer John Cage or insisting that randomness was the singular goal of his choreography.
In this book, the first dedicated to the complete arc of Cunningham's career, Carrie Noland brings new insight to this transformative artist's philosophy and career, providing a fresh perspective on his artistic process while exploring aspects of his choreographic practice never studied before. Examining a rich and previously unseen archive that includes photographs, film footage, and unpublished writing by Cunningham, Noland counters prior understandings of Cunningham's influential embrace of the unintended, demonstrating that Cunningham in fact set limits on the role chance played in his dances.
Drawing on Cunningham's written and performed work, Noland reveals that Cunningham introduced variables before the chance procedure was applied and later shaped and modified the chance results.
Chapters explore his relation not only to Cage, but also Marcel Duchamp, Robert Rauschenberg, James Joyce, and Bill T.
Jones. Ultimately, Noland shows that Cunningham approached movement as more than "movement in itself," and that his work in fact enacted archetypal human dramas.
This remarkable book will forever change our appreciation of the choreographer's work and legacy.
Information
Format: Hardback
Pages: 304 pages
Publisher: The University of Chicago Press
Publication Date: 06/12/2019
ISBN: 9780226541105
Other Formats
Paperback / softback from £23.85