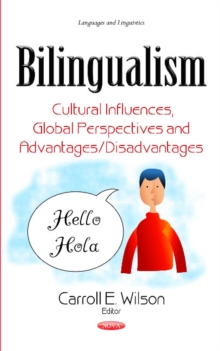 Bilingualism : Cultural Influences, Global Perspectives & Advantages / Disadvantages
Hardback
Description
This book focuses on the cultural influences of bilingualism, as well as global perspectives, and the advantages and disadvantages of being bilingual.
Chapter One discusses the Letter of Aristeas. Chapter Two discusses various aspects bridging the issues of culture implementation during a planned school course of English as a global language (EGL).
Chapter Three discusses the future direction of studies related to the application of the testing effect and retrieval practice in foreign language learning.
Chapter Four reports findings from a study that examined whether there would be significant differences on oral narrative retelling among kindergarten, first, and second grade Spanish-English bilingual children in U.S. schools. Chapter Five highlights some of the issues related to the concept and practice of translanguaging as proposed by Baker (2011) and Garcia (2012) within the broader context of language contact.
Chapter Six records the bilingual immigrant students views on their L1 development and use and their attitudes towards home language and culture; and the majority students views on the linguistic and cultural identities of their immigrant classmates.
Chapter Seven ivestigates the association between levels of language proficiency and levels of bilingualism and performance on verbal and visual-spatial working memory tasks in young monolinguals and bilinguals 9-year old children in South Africa.
Chapter Eight analyzes the grammar knowledge and use of second-generation Spanish/English bilinguals in South Florida.
The final chapter reviews recent studies on extensive reading focusing on EFL settings such as Japan and China.
Information
Format: Hardback
Pages: 195 pages
Publisher: Nova Science Publishers Inc
Publication Date: 01/05/2016
Category: Bilingualism & multilingualism
ISBN: 9781634852272