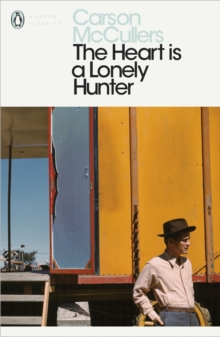 The Heart is a Lonely Hunter
Paperback
Description
Carson McCullers' The Heart is a Lonely Hunter is a powerful exploration of alienation and loneliness in 1930s America, published in Penguin Modern Classics.Carson McCullers' prodigious first novel was published to instant acclaim when she was just twenty-three.
Set in a small town in the middle of the deep South, it is the story of John Singer, a lonely deaf-mute, and a disparate group of people who are drawn towards his kind, sympathetic nature.
The owner of the cafe where Singer eats every day, a young girl desperate to grow up, an angry socialist drunkard, a frustrated black doctor: each pours their heart out to Singer, their silent confidant, and he in turn changes their disenchanted lives in ways the could never imagine.
Moving, sensitive and deeply humane, The Heart is a Lonely Hunter explores loneliness, the human need for understanding and the search for love.Carson McCullers (1917-1967) was the critically acclaimed author of several popular novels in the 1940s and '50s, including The Member of the Wedding (1946), adapted for the stage in the 1950s and filmed in 1952 and 1997.
Her novels frequently depicted life in small towns of the southeastern United States and were marked by themes of loneliness and spiritual isolation.
Other films based on her books are Reflections in a Golden Eye (1967, with Elizabeth Taylor and Marlon Brando), The Heart is a Lonely Hunter (1968, starring Alan Arkin) and The Ballad of the Sad Cafe (1991, starring Vanessa Redgrave).If you enjoyed The Heart is a Lonely Hunter, you might like Robert Penn Warren's All the King's Men, also available in Penguin Modern Classics.'She has examined the heart of man with an understanding ... that no other writer can hope to surpass'Tennessee Williams'A remarkable book ... [McCullers] writes with a sweep and certainty that are overwhelming'The New York Times
Information
Format: Paperback
Pages: 352 pages
Publisher: Penguin Books Ltd
Publication Date: 31/08/2000
ISBN: 9780141185224
Other Formats
Paperback from £7.09
EPUB from £4.99
Free Home Delivery
on all orders
Pick up orders
from local bookshops
Reviews
Showing 1 - 4 of 4 reviews.
Review by atia
16/06/2015
It took me a while to actually pick up this one and read it (although at this point this is true of a lot of my books..). It was given to me by a very dear friend, but I was always a little afraid of it, I think, because the book sounded so depressing. And truth be told, it was.But it was the good kind of depressing. It's the story of a deaf man, Singer, who finds himself the confidante of four very different people who all believe he is the one, the one who understands.It's a quest that's very familiar to me, and while it was hard to read about how this quest was headed in the completely wrong direction, and while hardly anything good and happy happens in this book, I loved it. It's a very true book, I think. McCullors managed to find the right words for something very true.
Review by deargreenplace
16/06/2015
This is a wonderfully subtle and affecting story made all the more impressive by knowing that McCullers was only 23 years-old when she wrote it.She tells the story of John Singer, a deaf-mute who lives in a small Southern town populated by an array of well-rounded characters (Mick was my favourite, and the author's too, I suspect).Singer initially lives with another deaf-mute friend - Antonapoulos - but when his friend becomes ill, he finds himself alone.In attempting to combat his loneliness, Singer starts taking meals at the New York Cafe, where he meets wannabe revolutionary (and drunk) Jake Blount. He is befriended by a tomboyish and ambitious young girl named Mick and a serious-minded black doctor.I loved this book because although it is set in the segregated South at a post-Depression time of great poverty, it is not about any of these issues, per se. McCullers writes about her characters and their lives in such detail and so vividly and evocatively, that you become emotionally invested in them rather than looking clinically at the political and social aspects of that time, which have an impact for sure, but the book doesn't come across as being about "issues" in the way that something like To Kill A Mockingbird does.Politics are simmering away in the lives of Blount and Doctor Copeland most certainly, both of whom have their own causes to promote. Mick is desperate to escape small-town life and dreams of a bigger future for herself, but she is tethered to the poverty of her large family.Singer becomes a confidant to them all and is perceived as a wise and educated man. He has time and hospitality for each of them, but his attempts to get them to befriend each other are unsuccessful, and of course they fail to see that he is desperately lonely.I was surprised that I hadn't heard more praise for this book. The characters are so closely observed, and the struggles of their lives so subtly portrayed, that I'd recommend it to all to be read at as early an age as possible. It really was that significant to me.
Review by TaniaBaxter
16/06/2015
A novel of great depth and originality, "The Heart is a Lonely Hunter' is moving and unsentimental. The book's main theme is loneliness and the search for connection. I loved it!Set in the 1930s in the American deep south, the central character is Mister Singer, a deaf mute. Like Singer, the other four main characters are outsiders with few friends. They are Biff Brannon, a cafe owner; sometime drunk Jake Blount who rails against the expoitation of workers; Benedict Copeland, a "coloured doctor" who is disappointed in the failure of his adult children; and a young girl, Mick Kelly who has a talent for music but no money for lessons. Mister Singer moves into a room in a boarding house owned by the Kelly family and begins to eat his meals at Biff's New York Cafe. Individually, the four begin to confide in Singer believing they have found someone who truly understands them.But they are wrong. Singer has no capacity to understand them. They are all projecting a connection that isn't there. One of the saddest moments in the book is when Mick asks Singer if she should drop out of school to take a low paying job in Woolworths and he says yes.Other moving scenes are where Mick sneaks into a stranger's yard to listen to a radio playing classical music, and when she tries to make a violin out of a broken ukelele and some violin and guitar strings.Something else the characters don't realise is that Singer is missing deeply his friend and old housemate, Spiros Antanopoulous ( "The Greek"), also a deaf mute, who has been taken to an asylum in another town.One of my favourite, and again, very sad parts of the book was a letter that Singer wrote to the illiterate Greek, describing his four visitors and how they all talk so much and he has no real understanding of what they are saying.Ironically, the Greek is interested only in food and drink, and doesn't seem to care much for Singer either.The book's characters and themes transcend time although there are are also some great moments that fix it as being written in the 1940s, for example when 12 year old Mick Kelly buys herself cigarettes, goes to a cafe and orders beer, and leaves her baby brother tied to a wagon and in the care of another infant brother!There are no happy endings but I won't spoil what happens.
Review by shanaqui
16/06/2015
I've been meaning to read The Heart is a Lonely Hunter for a long, long time -- prodded more recently by seeing Suzanne Vega live, singing some of the songs from <I>Carson McCullers Talks About Love</I>. It's hard to know what to make of this book now I've just finished it, though. With the introduction in mind, I can think of it as an English Lit student, analytically, looking at the symbolism and all of that. But I don't know how it makes me feel as a reader -- quiet and sad and lonely, I think, and a helping of angry in there too.<br/><br/>Carson McCullers was a good writer, if you judge by this, and I agree with everyone that there's something akin to Steinbeck here, and something that speaks of maturity far beyond her age when she wrote it.<br/><br/>I don't know that I strictly <I>liked</I> this or <I>enjoyed</i> it -- but I found it worthwhile and I'm interested in McCullers' other work, and in her life.
Also in the Penguin Modern Classics series | View all