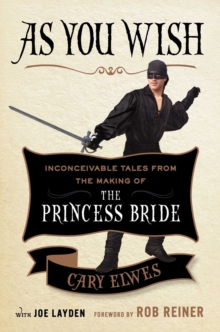 As You Wish : Inconceivable Tales from the Making of the Princess Bride
Hardback
Description
The Princess Bridehas been a family favourite for close to three decades.
Ranked by the American Film Institute as one of the top 100 Greatest Love Stories and by the Writers Guild of America as one of the top 100 screenplays of all time, The Princess Bride will continue to resonate with audiences for years to come.
Cary Elwes was inspired to share his memories and give fans an unprecedented look into the creation of the film while participating in the twenty-fifth anniversary cast reunion.
In As You Wishhe has created an enchanting experience; in addition to never-before seen photos and interviews with his fellow cast mates, there are plenty of set secrets and backstage stories.
With a foreword by Rob Reiner and a limited edition original poster by acclaimed artist Shepard Fairey, As You Wishis a must-have for all fans of this beloved film.
Information
Format: Hardback
Pages: 272 pages, 16 page 4-C insert; 4-C jacket interior art
Publisher: Simon & Schuster
Publication Date: 14/10/2014
Category: Films, cinema
ISBN: 9781476764023
Other Formats
Paperback from £6.65
CD-Audio from £15.15
eAudiobook MP3 from £15.11
EPUB from £5.99
Free Home Delivery
on all orders
Pick up orders
from local bookshops
Reviews
Showing 1 - 5 of 46 reviews.
Previous | Next
Review by bell7
16/06/2015
Cary Elwes - who, should you not be familiar with <i>The Princess Bride</i> played the male lead character Westley - recounts his memories of acting in that iconic movie, which for some time was notorious for being the screenplay no one could adapt to screen. In 1986, the stars apparently aligned and Rob Reiner, also known for the <i>This is Spinal Tap</i> mockumentary, took on directing the movie. Cary recounts his jitters as a young actor, meeting the cast, mishaps on set, the major work that went into making the sword fight all it could be, and more.If you're a huge fan of the movie, as I am (and, honestly, if you weren't why would you want to read this book in the first place?), you'll be able to overlook the flaws in the book. The tone is overly conversational including several sentence fragments and bordering on the repetitive, including phrases like "but more on that later" and Elwes constantly repeating how blessed he was. I also had some slight issues with the e-book formatting that I assume will be taken care of in the finished product (and, of course, the book format). But his recollections are entertaining and gave me a new appreciation for the film <spoiler>(why yes, I am now going to look for the scene in which he sits a certain way because of a broken toe)</spoiler>. I also really enjoyed the insets with recollections from others involved in the film, including Rob Reiner, Robin Wright, Billy Crystal and more. Enthusiastically recommended for any fan of the movie.
Review by seongeona
16/06/2015
As sweet as I hoped and wished it would be. A heartwarming story about how The Princess Bride movie came to be. I laughed and even shed some tears. I love TPB even more now knowing little details and feel compelled to rewatch it over and over, as well as reread the book. Much too short, however. I would have loved it to be about 3 times longer.
Review by auntmarge64
16/06/2015
If you loved "The Princess Bride", this is a MUST READ. Cary Elwes (Westley, or, The Man in Black, in the film) shares many stories of the production, mixed in with quotes from other major players (director Rob Reiner, author William Goldman, Mandy Patinkin, Wally Shawn, Billy Crystal and many others), and provides a real treat. Whatever the favorite quote with which you pepper your own conversation, be it "Hello, my name is Inigo Montoya, you killed my father, prepare to die!", "Inconceivable!", "Have fun storming the castle!", "He's only mostly dead", or one of the many others which have become mainstream, you will be smiling with delight as you read about Andre the Giant's various adventures, dueling lessons for Cary and Mandy, the final kiss no one wanted to end, and, of course the Greatest Duel of Modern Times. A fart of historic proportions, Andre passed out in a hotel lobby with no one having any idea how to move him, Chris Guest knocking Cary out by hitting him on the head too hard with a sword....well, I could go on and on, but instead, read this. Yes, it's a bit overblown in the constant raves for each person in the production, but you know ... who cares?Now if you've never seen the film, what on earth are you waiting for? As Leonard Bernstein wrote, "You're depraved on account of you're deprived". And, you've missed a marvelous experience.
Review by mamzel
16/06/2015
Be warned, if you love the movie, The Princess Bride, you may not want to read this book as it may give you memories and images that would interfere in your pure enjoyment of the movie. However, if you enjoy movie trivia and the backstory of how a movie came to be, then this book is for you. Because you get insight into what must have been one of the most wonderfully fun jobs in which anyone can possible take part. Cary Elwes was young and relatively inexperienced when he was selected to be the lead in a fantasy, adventure, humorous movie starring a group of the best comics of the 80s. Full of laughter and tears.
Review by dreplogle
16/06/2015
How many times have you watched the movie "The Princess Bride?" If it's one of your favorites you're going to love this book by Cary Elwes who plays Westley, the romantic hero. This year is the 25th anniversary of the movie release, and Elwes' book recounts the development and filming of the project. There are numerous interviews with the actors involved, and with the director Rob Reiner. This is a fairly quick read, but it still makes you feel like you want to have been on the set. Fascinating and entertaining. After reading it, go to Youtube and check out some of the outtakes and interviews.