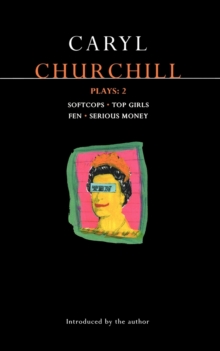 Churchill Plays : "Softcops"; "Top Girls"; "Fen"; "Serious Money" v.2
Paperback
Description
Softcops renders the philosophy of Foucault as a music-hall turn and Victorian freakshow "theatre and history combine to give such intelligent fun" (TLS); Top Girls brings five great and less-than-great women from history together for a dinner party and "has a combination of directness and complexity which keeps you both emotionally and intellectually alert" (Sunday Times); Fen scrutinises the lives of the low-paid women potato pickers of the fens (in Eastern England) and "the playwright pins down her poetic subject matter in dialogue of impressive vigour and economy" (Financial Times) while Serious Money is a satirical study of the effects of the Big Bang - "Pure genius...the first play about the city to capture the authentic atmosphere of the place." (Daily Telegraph)
Information
Format: Paperback
Pages: 320 pages
Publisher: Bloomsbury Publishing PLC
Publication Date: 08/02/1990
Category: Plays, playscripts
ISBN: 9780413622709
Free Home Delivery
on all orders
Pick up orders
from local bookshops
Reviews
Showing 1 - 2 of 2 reviews.
Review by GingerbreadMan
16/06/2015
I'm skeptical of the notion of inspiration. But reading Caryl Churchill's plays set my playwright mind off in new and interesting directions all the time. She's so bold and original and odd and clever, pulling off stunts that shouldn't be possible. She's the kind of playwright who can introduce a ghost in the last two pages of a play, or let the entire human civilization having collapsed between scenes two and three.This collection includes four plays. "Top Girls", probably Churchill's most well-known play, I read only a year ago and have since seen staged, so I skip it this time. The others are a mixed bunch, and not Churchill at her very strongest, perhaps. But still better than almost anything. "Softcops" deals with the idea of the modern prison, based on Bentham's Panopticon, and how it changes the way authorities demonstrate power. Instead of the public flexing of muscles via executions and floggings, we get the sneaky notion that we might be watched at any given time. Churchill sets her piece in 1830ies France, with a cast of mostly actual people, and a nice blend of realism and symbolism.One of my own plays was compared to "Fen" when it was staged, so it was fun to finally read it and see that there's some truth to the comparison. Set in a part of Britain which is traditionally poor potato country, but now being gullied out into fine farmland and bought up by multis, the play is a rich tapestry of life in the Fens. A large cast of characters, most of who only appears once or twice, are still given a real sense of life. In the middle is a tragic and ambivalent love story. This is my favorite play of this collection, a good example of Churchill's ability to work with gaps and leaps of time."Serious money" is another play I've read before. It's set under the finanicial Big Bang of the eighties, and is written as a broad Elizabethan epic – in verse! Churchill excels in lingo and ambience, and her cold eye towards the world of the stock market is merciless. Scilla's brother Jake commits what appears to be a suicide in the middle of a very prosperous career. Rumors of large scale inside trading start going around, and Scilla is determined to find out what happened. And to find the money. "Serious money" is a difficult play to read, as much of it is almost choir work and the language is peppered with terminology. The conclusion is also somewhat weak, and it comes across a little dated. Still, the boldness of the play remains, and it's difficult to read without feeling very impressed indeed. I prefer the later Churchill. But in these plays, of the seventies and eighties, her voice is already unique and powerful. Makes me want to work!
Review by quantum_flapdoodle
16/06/2015
Churchill writes about the difficulties of facing a changing world. She typically writes from a socialist perspective, and one of the plays, Serious Money, is an indictment of the current monetary system of Wall Street and its British equivalent. These plays were all during the Thatcher era, and that shows through in the work, as the concerns about the loss of the safety net and the decreasing support for the poor are demonstrated in each work. In one of her most renowned works, Top Girls, Churchill is concerned with the difficulties of being a woman even in today's (in this case, today being the 1980s) world. Well worth the time to read and discuss. Too bad they are not performed more often.
Also in the Contemporary Dramatists series | View all