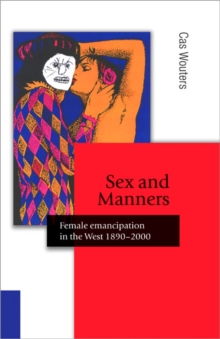 Sex and Manners : Female Emancipation in the West 1890 - 2000
Paperback / softback
Description
`This is a highly original and in many ways brilliant text.
It is a model of how historical/process sociological research ought to be conducted and written-up. The author's subtle blending of theory and data is outstanding' - Eric Dunning, Professor of Sociology, University of Leicester`Wouters has written a book both broad in scope and deep in analytic reach.
Exploring changes in courtship norms over the last century in English, Dutch , German and American books of manners, he discovers changes which confirm the theory of informalization.
Relations between the sexes are, he shows us, less regulated from outside and more from inside.
This change calls - paradoxically - for both an emancipation of emotion and an ever sharper cultural eye on ways of managing emotion.
The book carries Elias's classic, The Civilizing Process one giant step further.
An important contribution and a fascinating read' - Arlie Russell Hochschild, University of California This dazzling book examines changes in American, Dutch, English and German manners, regarding the changing relationships between men and women.
From the disappearance of rules for chaperonage and the rise of new codes for courting, dates, public dances and the work place, it shows how women have become their own chaperone by gaining the rights to pay for themselves, to have a job and be a sexual subject. This original and thought-provoking book:* provides empirical evidence showing how younger generations removed their courting from under parental wings and how the balance of power between the sexes shifted in women's favour; * monitors changes in codes regarding sexuality by focusing on the balance between the desire for sexual gratification and the longing for enduring intimacy;* documents the balance of controls over sexual impulses and emotions shifting from external social controls to internal ones; * compares nationally different trends, particularly between the USA and Europe, focusing on the American dating system and its resulting double standards; * argues that the initial greater freedom of American women has turned into a deficit.
Cas Wouters teaches Sociology at Utrecht University
Information
Format: Paperback / softback
Pages: 200 pages
Publisher: SAGE Publications Inc
Publication Date: 22/02/2006
Category: Sociology & anthropology
ISBN: 9781412929189
Other Formats
Hardback from £106.00
PDF from £26.51
Free Home Delivery
on all orders
Pick up orders
from local bookshops