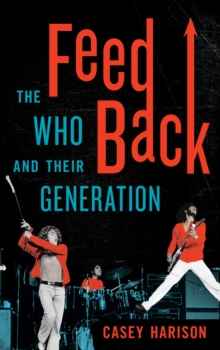 Feedback : The Who and Their Generation
Hardback
Description
In Feedback: The Who and Their Generation, historian Casey Harison offers a cultural and social history of one of the most successful bands of the 1960s British Invasion.
In this historically sensitive account of the superband's impact during its first decade, Harison describes the key role played by The Who in the formation of the "Atlantic Generation" of rock 'n' roll fans.
When the band first burst onto the scene, they quickly established their reputation for amping up the volume, pushing distortion effects (feedback), and destroying instruments on stage at the end of performances.
If The Who did nothing else for their generation, they would have easily secured a place in rock 'n' roll history for high volume, smashed guitars, and kicked over drum sets.
Ever since, The Who's stage antics have achieved iconic status in rock 'n' roll.
But we should not forget how startling this on-stage violence was and what it signified.
Audiences had never experienced music so loud, a band so energetic, and stage destruction so redolent of the frustrations they shared.
If anything, who'd have thought the three in combination-with excellent songwriting and studio production-would emerge as a formula for success?Feedback: The Who and Their Generation begins with the roots of rock music, setting the stage for The Who when its four band members came together in 1964 to produce their most successful work over the next decade.
Throughout, Harison looks at the musical and social cross-Atlantic feedback that characterized The Who's reception and impact.
From distorted guitars to "big sound" drum solos, The Who mirrored youth culture-its anger and its frustrations, from the class conflicts of England and Europe to the Vietnam protest movements of the United States.
The Who, like no other British Invasion band, assumed a signal role in the transatlantic cultural traffic.
From the American music traditions they borrowed-rock, blues, R&B-they transformed and returned to America the very music that served as their source of anger, echoing audiences' angst while developing enormous fan bases in Europe and America.
Information
Format: Hardback
Pages: 230 pages
Publisher: Rowman & Littlefield
Publication Date: 06/11/2014
Category: Rock & Pop music
ISBN: 9781442240094
Free Home Delivery
on all orders
Pick up orders
from local bookshops
Also by Casey Harison