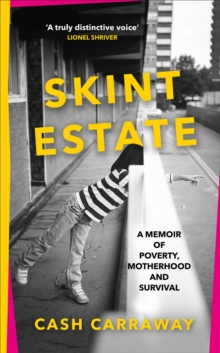 Skint Estate : A memoir of poverty, motherhood and survival
Hardback
Description
"Everyone has their price. It's just not always monetary. Mine is though. 20 quid." Single mum. `Stain on society'. Caught in a poverty trap. It's a luxury to afford morals and if you're Cash Carraway, you do what you can to survive. Skint Estate is the hard-hitting, blunt, dignified and brutally revealing debut memoir about impoverishment, loneliness and violence in austerity Britain - set against a grim landscape of sink estates, police cells, refuges and peepshows - skilfully woven into a manifesto for change. Alone, pregnant and living in a women's refuge, Cash Carraway couldn't vote in the 2010 general election that ushered austerity into Britain.
Her voice had been silenced. Years later, she watched Grenfell burn from a women's refuge around the corner.
What had changed? The vulnerable were still at the bottom of the heap, unheard.
Without a stable home, without a steady income, without family support - how do you survive?In Skint Estate, Cash has found her voice - loud, raw and cutting.
This is a book born straight from life lived in Britain below the poverty line - a brutal landscape savaged by universal credit, zero-hours contracts, rising rents and public service funding cuts.
Told with a dark lick of humour and two-fingers up to the establishment, Cash takes us on her isolated journey from council house childhood to single motherhood, working multiple jobs yet relying on food banks and temporary accommodation, all while skewering stereotypes of what it means to be working class. Despite being beaten down from all angles, Cash clings to the important things - love for her daughter, community and friendships - and has woven together a highly charged, hilarious and guttural cry for change. `This is a raw, painful, funny book. And it rings true. Cash Carraway is a real writer, who shares her extraordinary story with a developing sense of politics.
Her writing bursts with energy, wit and anger - it might be too strong for the Radio4 Book of the Week, but it is essential reading' - Ken Loach'What an astonishingly brilliant memoir.
I'm speechless. So beautifully, passionately written without a shred of self-pity and brim full of this unbreakable mother daughter Love at the heart of it all...
Raw, gut-wrenching and immensely moving' - Ruth Jones`Cash is the definition of edgy, a truly distinctive voice' - Lionel Shriver, bestselling author of We Need to Talk about Kevin'Skint Estate will stay with me forever.
Cash's brutal honesty will leave you wanting to make a change, stand up and be heard.
A must read, and when you've read it pass it on' - Vicky McClure`A fascinating, shocking look at poverty and motherhood' - Billie Piper'Cash Carraway's unique voice, filled in equal measure with rage and inspiration, tells a story of hope amongst state violence.
Brilliant and compelling' - Anna Minton, author of Big Capital and Ground Control
Information
Format: Hardback
Pages: 368 pages
Publisher: Ebury Publishing
Publication Date: 11/07/2019
Category: Memoirs
ISBN: 9781529103373
Free Home Delivery
on all orders
Pick up orders
from local bookshops