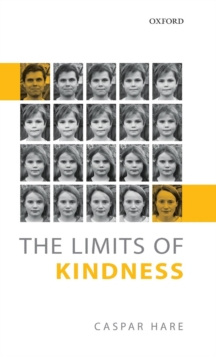 The Limits of Kindness
Hardback
Description
Caspar Hare presents a novel approach to questions of what we ought to do, and why we ought to do it.
The traditional way to approach this subject is to begin by supposing a foundational principle, and then work out its implications.
Consequentialists say that we ought to make the world impersonally better, for instance, while Kantian deontologists say that we ought to act on universalizable maxims. And contractualists say that we ought to act in accordance with theterms of certain hypothetical contracts.
These principles are all grand and controversial. The motivating idea behind The Limits of Kindness is that we can tackle some of the most difficult problems in normative ethics by starting with a principle that is humble and uncontroversial.
Being moralinvolves wanting particular other people to be better off. From these innocuous beginnings, Hare leads us to surprising conclusions about how we ought to resolve conflicts of interest, whether we ought to create some people rather than others, what we ought to want in an infinite world, when we ought to make sacrifices for the sake of needy strangers, and why we cannot, on pain of irrationality, attribute great importance to the boundaries between people.
Information
Format: Hardback
Pages: 242 pages
Publisher: Oxford University Press
Publication Date: 15/08/2013
Category: Ethics & moral philosophy
ISBN: 9780199691999
Other Formats
PDF from £19.94
Paperback / softback from £22.49
Free Home Delivery
on all orders
Pick up orders
from local bookshops