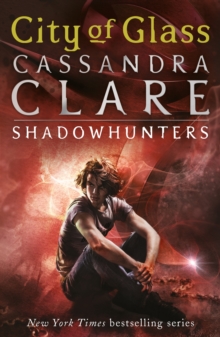 The Mortal Instruments 3: City of Glass
Paperback
Description
Third in Cassandra Clare's internationally bestselling Mortal Instruments series about the Shadowhunters.Discover more secrets about the Shadowhunters as they fight to protect the world from demons in the third book in the internationally bestselling series.
Amid the chaos of war, the Shadowhunters must decide to fight with the vampires, werewolves and other Downworlders - or against them.
Meanwhile, Jace and Clary have their own decision to make: should they pursue the love they know is a mortal sin?
This edition contains a map and a new foreword by Cassandra Clare.
Read all the sensational books in The Shadowhunter Chronicles: The Mortal Instruments, The Infernal Devices, Tales from the Shadowhunter Academy, The Bane Chronicles, The Dark Artifices, The Last Hours and The Shadowhunter's Codex.
Information
Format: Paperback
Pages: 512 pages
Publisher: Walker Books Ltd
Publication Date: 01/06/2009
Category: Fantasy
ISBN: 9781406307641
Other Formats
EPUB from £3.20
Paperback from £6.89
PDF from £6.39
Free Home Delivery
on all orders
Pick up orders
from local bookshops
Reviews
Showing 1 - 5 of 8 reviews.
Previous | Next
Review by soliloquies
16/06/2015
The final book in the trilogy (before she made it a six parter) and for me this is the strongest book. Everything is at stake and you really begin to see Clary's special abilities coming the fore. Well worth reading as Clare has developed as a writer over the first three books.
Review by julienne_preacher
16/06/2015
This book really wasn't a page turner. In fact reading it felt like a chore. The third installment of the Mortal Instruments series is the weakest one by far. The previous books were fast paced and fun. In City of Glass the author relies on melodrama and exposition, and especially the first two parts are a drag to get through. The third part is slightly more gripping (yet predictable), and in the last pages of the book the characters seem to even get back the snark that is missing for over 450 pages.I wish I could like this book, but I'm just disappointed.
Review by NovaStalker
16/06/2015
Well I called it. I called it the very second I reached the full stop at the end of the sentence in the first book where we "discover" that Jace and Clary are brother and sister. I don't even want to put this in spoiler tags because I can't believe anyone in the world was actually stupid enough to believe for one second that Cassandra Clare was a good enough author to make the incestuous relationship actually be true because we all knew there was no way in hell that it was ever going to be. We all knew it was just the author wasting our time with a book and a half on teenager angst.And let's all be honest here, the series should be over now. If Cassandra Clare had any of the grace Richelle Mead did the Jace/Clary trilogy would end here and we would continue the series with Simon going back to NYC. This is clearly where the series ends and yet it continues on anyway. My only hope is that with the horrible 'epic' romance out of the way we can finally have just a story with as much Simon time as possible. I've more or less gotten over hating Jace as a character and just hate how much of a clichefest he is but Simon remains the primary reason I keep reading these books. I just wish Mortal Instruments had ended as a nice trilogy so we could spin-off with Simon as our protagonist. He's clearly the most interesting person right now as a new vampire who can walk in daylight and has the actual Mark of Cain on his brow so I don't know how anyone else can compete. Having read the blurb for the next book though I have to wonder at our dear hack author rewriting his character so he's now two-timing his girlfriends.
Review by emcnicho
16/06/2015
Much better than the second. Glad I was right.
Review by CreativeJunkie
16/06/2015
OK...so, my overall review on the series so far:<br/><br/>I really enjoyed the characters she made, loved each of their individual voices and how different/unique they each were. I also enjoyed the sprinkle of humor throughout the books (I giggled out loud more than once) that sort of seemed to balance the heaviness of the theme of the books in general.<br/><br/>The world(s) she created were interesting and easy to picture - I was able to see everything as if I was watching a movie.<br/><br/>I will say that I was disappointed with a few points in this series: <br/><br/>1. The incredibly drawn out plot point of Jace/Clary as siblings. I thought it was unnecessary angst and something that could have been resolved quickly. Plus, it squicked me out.<br/><br/>2. How many brothers does this chick have to kiss? <br/><br/>3. The fact that none of these books could stand alone. When I read a series, I like to see a clear story arc within each book and resolutions of conflicts within those. As it stands, these three books read like one massively large book, and we still don't have resolution for some plot points. <br/><br/>Overall, I enjoyed the series and will be reading the continuation, but there were several points that frustrated me tremendously as a reader. I'm hoping we don't have an extension of some of those in the additional books.
Also in the The Mortal Instruments series | View all