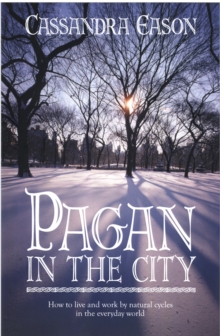 Pagan in the City : How to Live and Work by Natural Cycles in the Everyday World
Paperback / softback
Description
The pagan way is the much better way to live. Pagan comes from the Latin paganus, which means country dweller.
In modern terms, it refers to anyone who follows the cycles of the seasons - the moon and the sun - rather than becoming slave to the clock in a frantic 24/7 activity cycle.
No matter that you live in a high-rise tower in the city.
Cassandra will show you how to become pagan by turning to nature and learning to love the natural rhythms that exist in crystals, the moon, the stars and the cycles of the sun and the seasons.
I will take you for regular trips to your nearest green space and show you how to re-energise yourself in it.
I will teach you the values of the old ways to improve the harmony of your home and workplace.
Whether you live alone or have to juggle work, home and the care of others, a pagan path can make your leisure time much more meaningful and restorative.
Paganism will reintroduce you to values that will settle and comfort you.
It will improve your communication with loved ones by creating within you an oasis of calm and acceptance.
Mother Earth has much that she has been waiting to teach you. Let Cassandra introduce you to her and help you to change the way you see and respond to life.
Information
Format: Paperback / softback
Pages: 256 pages
Publisher: W Foulsham & Co Ltd
Publication Date: 18/04/2008
Category: Thought & practice
ISBN: 9780572034184