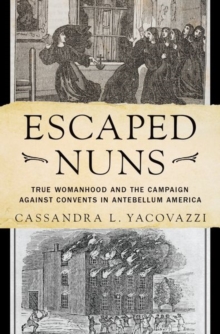 Escaped Nuns : True Womanhood and the Campaign Against Convents in Antebellum America
Hardback
Description
Just five weeks after its publication in January 1836, Awful Disclosures of the Hotel Dieu Nunnery, billed as an escaped nun's shocking expose of convent life, had already sold more than 20,000 copies.
The book detailed gothic-style horror stories of licentious priests and abusive mothers superior, tortured nuns and novices, and infanticide.
By the time the book was revealed to be a fiction and the author, Maria Monk, an impostor, it had already becomeone of the nineteenth century's best-selling books.
In antebellum America only one book, Uncle Tom's Cabin, outsold it. The success of Monk's book was no fluke, but rather a part of a larger phenomenon of anti-Catholic propaganda, riots, and nativist politics.
The secrecy of convents stood as an oblique justification for suspicion of Catholics and the campaign against them, which was intimately connected with cultural concerns regarding reform, religion, immigration, and, in particular, the role of women in the Republic.
At a time when the term "female virtue" pervaded popular rhetoric, the image of the veilednun represented a threat to the established American ideal of womanhood.
Unable to marry, she was instead a captive of a foreign foe, a fallen woman, a white slave, and a foolish virgin.
In the first half of the nineteenth century, ministers, vigilantes, politicians, and writers-male andfemale-forged this image of the nun, locking arms against convents.
The result was a far-reaching antebellum movement that would shape perceptions of nuns, and women more broadly, in America.
Information
Format: Hardback
Pages: 232 pages
Publisher: Oxford University Press Inc
Publication Date: 17/09/2018
ISBN: 9780190881009
Free Home Delivery
on all orders
Pick up orders
from local bookshops