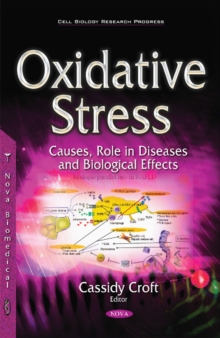 Oxidative Stress : Causes, Role in Diseases & Biological Effects
Paperback / softback
Description
Active oxygen species are produced as inescapable by-products of a normal aerobic metabolism, and their production is further enhanced by exposure to certain environmental conditions, or as a result of some diseases.
Oxidative stress is defined as an imbalance between the production of free radicals (FR) and antioxidant defences in favour of the former, which can result from an excess of prooxidant, antioxidant deficiency or both factors.
There are many kinds of FR, but these can be grouped together under the name of reactive oxygen species (ROS) or reactive nitrogen species (RNS), determined by the ability of each species according to the four basic characteristics: reactivity, specificity, selectivity and diffusivity.
This book aims to discuss the biological effects, role in diseases, and causes of oxidative stress.
Some of the topics provided include oxidative stress in biofilms; age realtion to oxidative stress; controlling of oxidative stress in non-alcoholic steatohepatitis; and the role of nitric oxide toxicity and oxidative stress in graft versus host disease.
Information
Format: Paperback / softback
Pages: 218 pages
Publisher: Nova Science Publishers Inc
Publication Date: 01/12/2016
Category: Cellular biology (cytology)
ISBN: 9781536100402
Free Home Delivery
on all orders
Pick up orders
from local bookshops