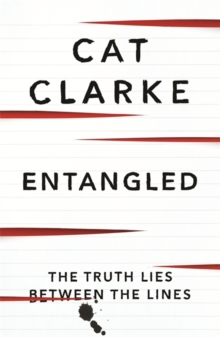 Entangled : From a Zoella Book Club 2017 author
Paperback
Description
Real, compulsive and intense: Cat Clarke is the queen of emotional suspense.
For fans of Paula Hawkins, Gillian Flynn, Megan Abbott and Jandy Nelson.Seventeen-year-old Grace wakes up in a white room, with table, pens and paper - and no clue how she got there.
As Grace starts writing, pouring her tangled life onto the page, she is forced to remember everything she's tried to forget: falling hopelessly in love with Nat, and the unravelling of her friendship with her best mate Sal.
But there's something missing. As hard as she's trying to remember, is there something she just can't see?
Grace must face the most important question of all. Why is she here? A compulsive thriller of dangerous secrets, intense friendships and electrifying attraction.
Information
Format: Paperback
Pages: 256 pages
Publisher: Hachette Children's Group
Publication Date: 01/01/2011
Category: General
ISBN: 9781849163941
Free Home Delivery
on all orders
Pick up orders
from local bookshops
Reviews
Showing 1 - 5 of 14 reviews.
Previous | Next
Review by JessicaLouise23
16/06/2015
"The same questions whirl round and round in my head:What does he want from me?How could I have let this happen?AM I GOING TO DIE?17-year-old Grace wakes up in a white room, with a table, pens and paper - and no clue how she got here.As Grace pours her tangled life onto the page, she is forced to remember everything she's tried to forget. There's falling hopelessly in love with the gorgeous Nat, and the unravelling of her relationship with her best friend Sal. But there's something missing. As hard as she's trying to remember, is there something she just can't see?Grace must face the most important question of all. Why is she here?"So as you can gather from the synopsis, when you open Entangled you really have no idea what's going on and what this story's going to be about and that's totally the way it should be. Cat Clarke is an author who keeps her hand of cards close to her chest only giving you hints and clues as to what's going to be dealt out making this book completely enthralling.At the beginning of Entangled you have no idea what's going on. You don't know Grace's story or where she is or how she came to be there. This book starts at the end and works its way backward, Grace unravelling her story to you a little bit at a time. It wasn't until I was half way through Entangled that I started to get an inkling of what might be happening and even then there were so many possibilities to what's happened to Grace that you want to keep reading to find out the result. This book has so many twists and turns that although the actual outcome was one of my theories it wasn't exactly what I expected it to be which I loved! This book keeps you on your toes. It's unpredictable and it surprises you which is one of the many things I loved about it. As a reader I would recommend going into this book knowing as little as possible which is why I'm not going to go into the plot any more than that.Cat Clarke is a fantastic debut author that we Brits can really be proud to call our own. The characters of Grace, Nat and Sal feel so incredibly real. Whilst their not perfect I never found myself disliking any of them because although I may not necessarily have agreed with all of their actions I could understand why they did the things they did. They're not perfect by any means but their real, humane and hugely relatable.This is a book about forgiveness for others and yourself. It's about hope and accepting that you and others have faults. It's about learning to live and be happy in spite of that. It's about how easy it is for us all to get tangled in lies and guilt and hurt. I can't begin to tell you how much I loved this book. I gobbled it up in a day because I just could not get enough. It was the perfect book to start the New Year with and I will now be measuring all books I read this year up to the incredibly high standard Entangled has set. This is a must read for everyone.My Rating 5/5 stars *****Thanks go to Quercus for sending me this book to review. Entangled is available in all good bookshops across the UK or available online on 6th January.Synopsis taken from goodreads
Review by readingdate
16/06/2015
ENTANGLED is author Cat Clarke's debut novel. It is the story of Grace, a suicidal teen, who suddenly finds herself being held captive in a white room by a mysterious man named Ethan. She is supplied with a table, paper and pens. She has no remembrance of how she arrived in this room. She decides to make the best of the situation and writes down her complicated life story.I picked up this book because the cover intrigued me, and I felt like reading something contemporary. The book is gripping and intense. As it starts out, Grace has been abducted and I was worried about what might happen to her. As she sits down to write her story I became increasingly interested in her messy past and what led her to contemplate taking her own life.Grace as a character is complicated and rough around the edges, yet vulnerable at times. She is a party girl and drinks, sleeps around and cuts herself. She does not have much in the way of family support. Grace has never had many friends before she meets Sal, who she begins an intense friendship with. Grace is a mess and heading on a downward spiral when she meets and falls hard for Nat. She feels that her life is turning around and that she has it all with her loyal best friend Sal and gorgeous boyfriend Nat.The story is told in first person and is difficult to read sometimes, as Grace's head is a dark place to be. The plot is full of pain and teenage angst, and Grace is brash and tough. I did ultimately feel sympathetic towards her, though her manner makes it hard at times. The character of Sal seemed well intentioned but I did not feel that I got to know her that well. Their intense friendship and falling out is one of the major themes of the book. Nat and Grace have a torrid love affair that makes Grace feel wanted and loved, and hopeful that her life is turning around. Nat's brother Devon is a breakout character who I wish would have appeared more in the book.The white room scenes helped to move the story along and provided a break between the flashbacks. These scenes and the character of Ethan kept me guessing what was going to happen next.It is hard to put this book down once you are getting close to the end. The story has many twists and turns and surprises. Although I did have an idea how it was going to end, I still enjoyed the book to its conclusion. I liked this debut novel and felt that the author nailed Grace's troubled voice, and also succeeded in sharing the intensities of friendships and relationships, and depression. The writing is well done, with a thoughtful and consuming plot. Recommended for older teens or adults due to the explicit themes.
Review by librarianm
16/06/2015
What an infuriating book! And I mean that in the best possible way. Does that make any sense? Let me explain.Grace wakes up to find her herself in a white room with white everything and three reams of paper and lots of pens waiting for her on the desk. She's pretty sure how she got there; she just doesn't know where she is or why she's there. Grace wonders why her kidnapper, Ethan, (who looks familiar to her although she can't place how she might know him) is being so nice to her. Not sure what else to do, Grace writes about her best friend Sal and boyfriend Nat. Through her writing Grace looks back and uncovers truths that ultimately led her to her current predicament.So, Entangled is one of those books where the cover copy really doesn't explain the book at all and in this case I was happy about that because I was expecting a different story than the one I read. And to be honest, I really much rather prefer the story I read to the story I was expecting.Grace is a train wreck of a girl. She's clever, beautiful, impulsive, sad, madly in love with her boyfriend Nat, occasionally happy, and not sure about her relationship with her mom. I liked her from the first page or on day three of her ordeal because that's where the book starts, and found her journey to be fascinating. Starting on day three, made me wonder what happened those first two days and why Grace didn't tell us about them.I found the initial setting of the white room to be a genius choice because it forced Grace to fill the space with her story. But, at the same time, the room felt like a blank slate, a chance to start over; a way for Grace to identify and fix what wasn't working in her life before. As Grace writes, the reader is introduced to Sal and Nat, her best friend and boyfriend respectively. Through her relationships with them, the reader learns a lot about Grace and how she deals with life. Grace's voice felt real and I never doubted for a second that she was an actual teen dealing with problems many teens face.About more than relationships, Entangled deals with some tough subjects - depression, suicide, cutting, and teen pregnancy are all touched upon by Grace as she writes. At times, it was a hard book to read. But, it was also one of those books that worms its way into your head so that it's all you can think about for days, even after you've finished reading. It was a book that made me laugh and cry, okay I cried more than I laughed and the last 20 pages or so tore me to pieces, but I had to make it through so that I could find out how Grace's story ended.Entangled was a dark, engrossing read. It was a book I couldn't put down and when I got to the last page, I wanted to know what happened next. It was a fabulous debut all around. I can't wait to see what's next for Cat Clarke.
Review by Elphaba71
16/06/2015
The blerb on the back of the book doesn't give much away, but I'd read good things about it, and decided to get my hands on a copy, I wasn't disappointed......I'm not sure I can get what I want to say about Entangled down on 'paper'! It is fantastic, I haven't honestly read a book quite like it, one minute I was smiling while reading, the next I was feeling upset and emotional along with one of the main characters Grace, I could really empathise with the on a couple of issues, how she felt about them and what she was going to do.The 3 main characters of the book, Grace, Sal and Nat are very like able, and come across in a very real way, dealing with their lives and relationships, not always in a responsible way. The book is full of twists & suprises, you never quite know how it's going to turn out, I got to the last page just wanting it to carry on.... A Fabulous debut novel :)
Review by Ronette
16/06/2015
Entangled hooked me from its very first line and if I didn't have to work, I would never have put it down. The novel is essentially two stories in one – the first is that seventeen year old Grace has been kidnapped and is being held hostage by the inscrutable Ethan. Ethan doesn't harm Grace, but he keeps her in a bare room with only pens and paper. Grace uses those to write out her life story and the events that led her up to this moment. Those events form the second storyline of the book and while this part is a fairly typical teen drama, it draws in the reader with characters so realistic, you feel as if you went to school with them yourself. Grace's voice is that of a thousand teen girls who are lost and damaged but covering it up with an act of indifference and bravado. I admit to feeling slightly let down by the ending but that's largely because I had let my imagination go into overdrive about what could be the reason Grace was being held captive. What the author does is true to the tone of the story but still, I was a little disappointed that my wild predictions came to nothing. Of course, I still think the book deserves 5 stars as it kept me engrossed and entertained from the first page to the last, which is what you want from everything you read.