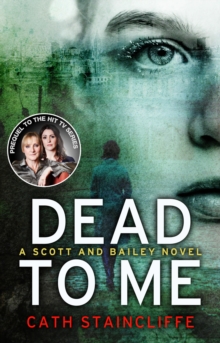 Dead To Me : Scott & Bailey series 1
Paperback
Description
A daughter's death - A teenage girl is found brutally murdered in her squalid flat.
A mother's love - Her mother is devastated. She gave her child up to the care system, only to lose her again, and is convinced that the low-life boyfriend is to blame.
Two ordinary women, one extraordinary job - DC Rachel Bailey has dragged herself up from a deprived childhood and joined the Manchester Police.
Rachel's boss thinks her new recruit has bags of raw talent but straight-laced DC Janet Scott, her reluctant partner, has her doubts.
Together Scott and Bailey must hunt a killer, but a life fighting crime can be no life at all...
Information
Format: Paperback
Pages: 400 pages
Publisher: Transworld Publishers Ltd
Publication Date: 01/03/2012
Category: Crime & mystery
ISBN: 9780552167154
Free Home Delivery
on all orders
Pick up orders
from local bookshops
Reviews
Showing 1 - 2 of 2 reviews.
Review by SteveAldous
16/06/2015
Well-written prequel to Scott and Bailey TV series, which uses authenticity and blends with domestic drama and strong characters to produce an enjoyable introduction. Staincliffe dispays strong knowledge of the locale and of police procedure.
Review by anissaannalise
16/06/2015
I'm a big fan of the show Scott & Bailey so I devoured this prequel novel to the show. First in a series, I thought it was a good introduction to the main women we follow (Janet, Rachel & Gill) & there was great expansion on background of these ladies that is only mentioned in passing on the show (season 1) or alluded to. It was all fantastic & just fit so well with what is already known on screen. I laughed & rolled my eyes & enjoyed watching Rachel getting her bearings with the team. Janet is steady as always but that whole thing with Andy was good to get the low down on. I learnt the most about Gill & that was really cool because on the show, so much of her past hadn't been mentioned. The main case the MIT worked on was pretty interesting & it never got boring following the procedural stuff. I was pretty sure I'd figured out the killer's identity but there were still twists & turns that I hadn't seen coming along the way. The tension was built & held taut & true throughout. The supporting characters were well drawn & not just stock or flat. I was so eager to read this that I bought my copy on Amazon's UK site (it's not available on Kindle in the US) & likely will very soon buy the next in the series as well. Love this series.
Also in the Scott & Bailey series | View all