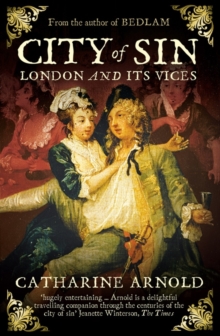 City of Sin : London and its Vices
Paperback
Description
If Paris is the city of love, then London is the city of lust.
For over a thousand years, England's capital has been associated with desire, avarice and the sins of the flesh.
Richard of Devises, a monk writing in 1180, warned that 'every quarter [of the city] abounds in great obscenities'.
As early as the second century AD, London was notorious for its raucous festivities and disorderly houses, and throughout the centuries the bawdy side of life has taken easy root and flourished.
In the third book of her fascinating London trilogy, award-winning popular historian Catharine Arnold turns her gaze to the city's relationship with vice through the ages.
From the bath houses and brothels of Roman Londinium, to the stews and Molly houses of the 17thand 18thcenturies, London has always traded in the currency of sex.
Whether pornographic publishers on Fleet Street, or fancy courtesans parading in Haymarket, its streets have long been witness to colourful sexual behaviour.
In her usual accessible and entertaining style, Arnold takes us on a journey through the fleshpots of London from earliest times to present day.
Here are buxom strumpets, louche aristocrats, popinjay politicians and Victorian flagellants -- all vying for their place in London's league of licentiousness.
From sexual exuberance to moral panic, the city has seen the pendulum swing from Puritanism to hedonism and back again.
With later chapters looking at Victorian London and the sexual underground of the 20thcentury and beyond, this is a fascinating and vibrant chronicle of London at its most raw and ribald.
Information
Format: Paperback
Pages: 384 pages
Publisher: Simon & Schuster Ltd
Publication Date: 28/04/2011
Category: British & Irish history
ISBN: 9781847393722
Free Home Delivery
on all orders
Pick up orders
from local bookshops
Reviews
Showing 1 - 2 of 2 reviews.
Review by MiaCulpa
16/06/2015
I can not praise this book highly enough. If you're into titillating reads of debauchery by Londoners dating back to the Roman era, through the middle ages to the present, then you should definitely get your grubby hands on this. I used to think I had heard all perversions but there were many stories in "City of Sin" that made me stop and think "What the fuck was going on back then?" If I had to pick a favourite story, it would be of the politician that was seen on the balcony of a known brothel but whereas many of today's pollies would sadly hide, this MP put on a show for the growing crowd below, which gleefully cheered him on.Suffice to say I am eagerly chasing down other books by Catharine Arnold.
Review by sscarllet
27/01/2016
I very much enjoyed this book. Arnold did thorough research and didn't get 'stuck' in just one time period, giving me a really good overview of the past few thousand years. I loved that she used stories whenever possible. This really helped me to connect to the working women and understand their decisions, or lack thereof. While this book is on a seemingly seedy topic, and Arnold does go into detail, she never uses language or facts for simple shock value. Everything has research behind it.I would definitely recommend reading this if you love history and aren't faint of heart!