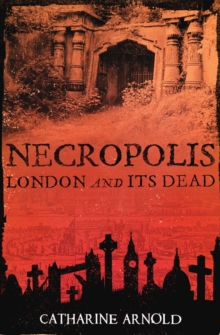 Necropolis : London and Its Dead
Paperback
Description
From Roman burial rites to the horrors of the plague, from the founding of the great Victorian cemeteries to the development of cremation and the current approach of metropolitan society towards death and bereavement -- including more recent trends to displays of collective grief and the cult of mourning, such as that surrounding the death of Diana, Princess of Wales -- NECROPOLIS: LONDON AND ITS DEAD offers a vivid historical narrative of this great city's attitude to going the way of all flesh.
As layer upon layer of London soil reveals burials from pre-historic and medieval times, the city is revealed as one giant grave, filled with the remains of previous eras -- pagan, Roman, medieval, Victorian.
This fascinating blend of archaeology, architecture and anecdote includes such phenomena as the rise of the undertaking trade and the pageantry of state funerals; public executions and bodysnatching.
Ghoulishly entertaining and full of fascinating nuggets of information, Necropolis leaves no headstone unturned in its exploration of our changing attitudes to the deceased among us.
Both anecdotal history and cultural commentary, Necropolis will take its place alongside classics of the city such as Peter Ackroyd's LONDON.
Information
Format: Paperback
Pages: 320 pages, 8pp b-w
Publisher: Simon & Schuster
Publication Date: 05/03/2007
Category: British & Irish history
ISBN: 9781416502487
Free Home Delivery
on all orders
Pick up orders
from local bookshops
Reviews
Showing 1 - 3 of 3 reviews.
Review by nandadevi
16/06/2015
I can't see any sense in lamenting that this book doesn't achieve a high level of scholastic rigour or focus, given that it is mass published paperback. It is, as the tag on the cover of the edition in my library explains, an 'entertainment'. Does it entertain? Well in parts. Personally the history of the economy of death and burial was the most interesting - both the legitimate economy (church fees and cemeteries as commercial enterprises) and the underground (or should I say black...) economy of grave robbing, diversion of bodies for profit, and plot reselling. Arnold writes very well on these particular issues in the period from age of Elizabeth through to Victorian times, but then seems to miss an incredible opportunity to expose modern practices (and malpractice) that would show that nothing much changes, only the profits get larger with time. One imagine the book's editors may have counselled that any events more recent than a 100 years past might best rest in peace else they come with a lawyer attached. And I could imagine that the editors might have prompted Arnold to spend more time on the macabre and less on the monetary side of the business. I suppose it is a saving grace - at least - that Arnold wasn't inspired (or coerced) into adding a section about vampire activities, although there are wooden stakes through the heart aplenty for reasons that I will leave for the reader to discover. All up Arnold does a fine job with the material. The only thing missing - and it's absence felt on almost every page - was a host of maps and pictures. Arnolds descriptions of places and memorial is extraordinarily detailed and relevant to the development of the story, and this calls out for some extra resources to satisfy the readers interest. Recommended.
Review by tloeffler
16/06/2015
Fascinating study of how London has dealt with its dead over the years, beginning with the Celts and the Romans. Arnold discusses the difficulties encountered with burials during the multiple plagues and epidemics experienced in London, the development of the famous cemeteries outside of London, Victorian mourning rituals, cremation, through the two World Wars, and a brief look at current day practices. It doesn't SOUND like it would be that interesting, but I was mesmerized from start to finish!
Review by shanaqui
16/06/2015
Necropolis is surprisingly compelling and readable. Most of it isn't at all dry or dull -- at times the names and dates blur into each other, but most of it is fascinating. It covers traditions of burial and mourning from the pre-Roman period to more or less the present, especially as concerns London.<br/><br/> It's kind of amazing how we take relatively recent burial traditions for granted -- for my family, the plot of land bought years ago, the simple headstones, a flowerbed over the grave, and an expectation that all that will remain ours and as it is until long after we've died ourselves. We expect the cemetary to be green and peaceful, kept tidy and the grass mown... Yet this sort of thing couldn't be expected even in the Victorian period.<br/><br/>Anyway, a fascinating book -- quite light reading, which might seem odd given the subject matter, but that's how it is.