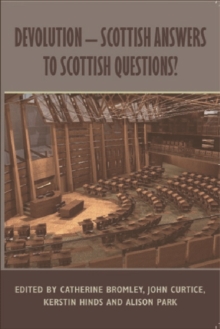 Devolution : Scottish Answers to Scottish Questions?
Paperback / softback
Description
Has Devolution reconnected Scots to the political process?
One of the core aims of the Scottish Parliament was that it would provide 'Scottish Answers to Scottish Questions'. This book asks how far that aim has been fulfilled, providing an independent, dispassionate account of what Scots think about some of the major social, moral and political questions being faced by Scottish policymakers and society.
Looking at what Scots make of their experience of devolution so far, it asks whether the policies pursued by the Scottish Parliament have been in tune with Scottish public opinion, and how far differences in attitudes within Scotland reflect traditional social divisions.
Community care, housing, drugs and the devolution project itself have been the subject of recent public and political controversy - attitudes towards these issues are explored in the first part of the book.
The second part focuses on a number of key divisions within Scottish society including religion, class, age and national identity and asks how far these are reflected in differences in social and political attitudes among Scots.Based on the annual Scottish Social Attitudes Survey, this book presents a unique and authoritative insight to the state of public opinion in devolved Scotland. Key Features: *Written by the leading figures in the area, including the prominent John Curtice (with UK-wide reputation in the media) *Foreword from Gordon Brewer, presenter of Newsnight Scotland *Authoritative confrontation of the core aim of the Scottish Parliament, asking whether it actually has provided 'Scottish Answers to Scottish Questions' - provides a balance to the media-fuelled ongoing debate about the value of the Parliament to the Scottish people *Asks what Scots think about some of the major social, moral and political questions being faced today *Covers key contemporary issues in the public eye - community care, housing and drugs *Explores social divisions along lines of religion, class, age and national identity
Information
Format: Paperback / softback
Pages: 224 pages
Publisher: Edinburgh University Press
Publication Date: 15/04/2003
Category: Political science & theory
ISBN: 9780748618088
Free Home Delivery
on all orders
Pick up orders
from local bookshops