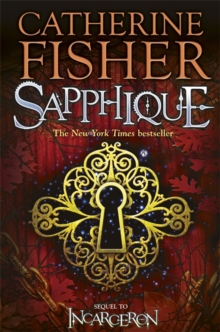 Description
Finn has escaped from the terrible living Prison of Incarceron, but its memory torments him, because his brother Keiro is still inside.
Outside, Claudia insists he must be king, but Finn doubts even his own identity.
Is he the lost prince Giles? Or are his memories no more than another construct of his imprisonment? And can you be free if your friends are still captive?
Can you be free if your world is frozen in time? Can you be free if you don't even know who you areInside Incarceron, has the crazy sorcerer Rix really found the Glove of Sapphique, the only man the Prison ever loved.
Sapphique, whose image fires Incarceron with the desire to escape its own nature.
If Keiro steals the glove, will he bring destruction to the world?
Inside. Outside. All seeking freedom. Like Sapphique.This refers to the newly jacketed edition available 2 May 2013.
Information
Format: Paperback
Pages: 480 pages
Publisher: Hachette Children's Group
Publication Date: 01/08/2008
Category: General
ISBN: 9780340893616
Free Home Delivery
on all orders
Pick up orders
from local bookshops
Reviews
Showing 1 - 5 of 11 reviews.
Previous | Next
Review by rj_anderson
16/06/2015
This book was SO AWESOME (like its predecessor) in so many ways, and yet emotionally so agonizing! Please, please, please, Catherine Fisher, write a third book, I don't care what you have to do to the plot, just resolve all these emotional threads you left hanging! Don't make me write epic Jared/Claudia fanfic just to ease the pain!So much cool stuff in this book, though. So much that I know I'll have to read it at least twice (as I did INCARCERON) just to keep it all straight in my head.
Review by Ameliaiif
16/06/2015
I give this about a <b>3.9/5</b> - somewhere in between "Pretty good" and "Very nice". This book was pretty good. I think I enjoyed it more than <i>Incarceron</i>, pretty much because I was familiar enough with the basic storyline and didn't have to spend so much time figuring everything out. The pacing was pretty good, but the last 100 pages really, REALLY dragged…and it got to the point where I came dangerously close to not caring anymore…that's not usually a good sign. And yet…I don't want to make it sound like I didn't like the book, because I did…but Catherine Fisher is not the greatest author on the planet, and her writing style actually aggravated me. You know the phrase "show, don't tell"? Well, she pretty much <i>tells</i> how characters feel/act, she doesn't <i>show</i>. Characterization is definitely not her strong suit in this series – everybody was pretty wooden and it was hard for me to relate to them because they didn't seem very real. There was just this hollow, shell-like feel to her characters and that was a major distraction. Claudia, in particular, was just incredibly frustrating. She was easier to relate to in <i>Incarceron</i> because you understood *why* she acted like such a conceited brat. In <i>Sapphique</i>, pretty much all of her conflicts have been resolved, so why is she still so MEAN?! It was stuff like this that made reading Sapphique a bit cumbersome. I didn't really like Keiro, either, because to me he seems like the embodiment of Evil: he's an individual with pretty much no conscience – he doesn't know compassion or humility, and according some of my teachers (and the <i>Harry Potter</i> series), true evil is that which is excessively vain and devoid of compassion or consideration for others. I'll admit it: I like it when characters "get their comeuppance" and he didn't get any comeuppance! Also, the ending…very mediocre and a bit bizarre. I don't want to spoil anything, but the ending just really didn't make sense if you take into account the overall story. It seems like Catherine Fisher spent so much time creating this really intense situation, and then the ending comes and it's "ta da! We're finished now! The end!" I think the first thing I said when I finished <i>Sapphique</i> was, "ohhhkay…I'm hungry." Let's compare that to another book…oh, say…<i>The Last Olympian</i>. I finished that book and was like, "OMG!!! WHAT AM I GOING TO READ NOW?!?!?!" *hyperventilates*It was a pretty engrossing read, most of the way through. Catherine's exceptionally imaginative, and the <i>Incarceron</i> series is one of the most thoroughly original books I've ever read in my life. However, her books aren't the best books I've ever read. Strengths: creativity and action. Weaknesses: very wooden and shallow characters and a spiraling last 100 pages…and a lackluster ending. <b>Amelialand Rating</b>:V: this book was "darker" than <i>Incarceron</i>, I think, and so there was more action-violence and scary images; about a PG-13 levelS: a few innuendos, nothing major, but parents of >12 should be cautioned L: swearing present, nothing 'major' but still present.My age recommendation: 13/14 (great for older middle schoolers/high schoolers…oh and grown-ups too!) <b>Final Rating</b>: 3.9/5
Review by peptastic
16/06/2015
The sequel to Incarceron was quite a let down. I felt she was trying to correct the mistake of the first book. We never should have had a glimpse outside the prison. The story would've been better served had we not known what was waiting outside for Finn.We did know so most of Sapphique was a repeat of the first book until the non-ending.
Review by wanderlustlover
16/06/2015
I read this so fast, but I was still entirely in love with the two main characters. I really still couldn't bring myself to care enough about the brother or the dog-slave girl, even though, as a team, they made so much more character-story cohesion. I have a want to know far more about the Warden. <br/><br/>I felt the ending was a little more sudden (and fixes everything) too fast, but I loved how Finn showed he understood where the truth always was. And in that way I almost hope for there to be a third book.
Review by Punkfarie
16/06/2015
this was an interesting sequel. idk. i liked it, it held my interest and it was fast paced. however it explained NOTHING. not what Era they were stuck in, of if the Prison was really that tiny cube, i need answers!