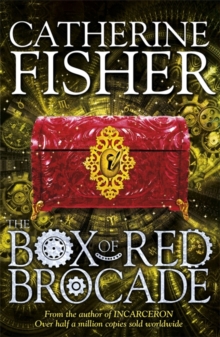 The Box of Red Brocade
Paperback
Description
Time travel is sf. Fairies are folklore. What happens when you mix the two? And add a final ingredient, Shakespeare's 'Macbeth' ...?
On a mission to recover his father lost in time, Jake finds himself in 1940s London.
From the rubble of the Blitzed city, a clue leads him to an eccentric seer of ghosts, three sinister children and three strange prophesies.
Two of them soon come to pass, but what is the Box of Red Brocade?
Does it hold the secret of destroying the Obsidian Mirror? A talking bird, an invisible girl, a walking wood; the second volume of Catherine Fisher's Chronoptika series is packed with mystery, magic and sinister intrigue. 'A new novel by Catherine Fisher, poet and prize-winning novelist is always worth looking out for. The Obsidian Mirror is both thriller and SF, and, being written in Fisher's acid-etched prose, equally satisfying to fans of many genres. 'Amanda Craig, THE TIMES Children's Book of the Week.
Information
Format: Paperback
Pages: 400 pages
Publisher: Hachette Children's Group
Publication Date: 03/10/2013
Category: Fantasy
ISBN: 9781444912630
Free Home Delivery
on all orders
Pick up orders
from local bookshops
Reviews
Showing 1 - 2 of 2 reviews.
Review by passion4reading
16/06/2015
Not as exciting or thrilling as the first volume in the series, but this is still a YA novel well above average. We encounter all the familiar characters from the The Obsidian Mirror: Jake, Oberon Venn and his factotum Piers, George Wharton, Sarah, Maskelyne and Rebecca, Jakes's father David, Janus, Summer, Gideon, and even John Harcourt Symmes makes a repeat appearance; there's also one or two new characters who are integrated neatly into the wider narrative and are bound to reappear in the last volume of the trilogy. The main characters are still trying to control the obsidian mirror, while Sarah tries desperately to help Venn achieve his goal of changing the past to resurrect his dead wife, and then to destroy the mirror so that it can't fall into Janus's hands and thereby save the world in the distant future. There's danger and action and lots of jumping from one time period to another, timey-wimey paradoxes Dr Who fans will have no trouble following, and the Queen of the Shee, Summer, a more terrifying villain than Janus himself. I wonder how it will all play out in the final volume, as I can't foresee a happy ending for them all.
Review by Herenya
27/08/2015
It took me forever to finish this. I love a lot of Fisher's earlier novels but this series is not working for me AT ALL. The convoluted plot, with multiple timelines (Thank you time travel!), and the constant switching between points of view. The characters intrigue me but I don't know them well enough to care about them or become invested in their endeavours. (And WHY is Wharton still at Wintercombe Abbey? Shouldn't he be going back to work? If this was explained in <I>The Obsidian Mirror</i>, I have forgotten it - clearly an indication that it needed to be re-explained in this book.)There is a line between "This is a terrible book" and "This book does not appeal to me as a reader", but I don't know where the line IS in this case. I have looked for it and could not find it.And in the meantime I finished the book.(I will likely read the next book, because I'm a Fisher completionist and I'll be curious to see if that works any better for me. But I'm not going to go around recommending this series.)
Also in the Shakespeare Quartet series | View all