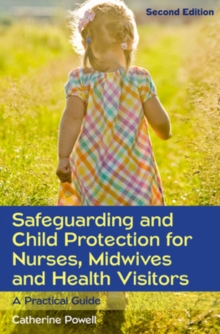 Safeguarding and Child Protection for Nurses, Midwives and Health Visitors: A Practical Guide
Paperback
Description
Nurses, midwives and health visitors have a statutory duty to safeguard and promote the welfare of children and young people.
In this clear and invaluable guide, Catherine Powell focuses on the practical aspects of safeguarding and how healthcare professionals should respond to safeguarding children concerns.
Key features of the book include: * Setting out the roles and responsibilities of nurses, midwives and health visitors working in a range of settings, including those working primarily with adult clients * Realistic case scenarios of physical, emotional and sexual abuse and neglect, covering infants, toddlers, school-age children and adolescents * Explanations of inter-agency working and the roles of other key players such as children's social care, the police and education services* 'Markers of Good Practice' boxes highlighting lessons for practice. The book covers the full spectrum of safeguarding children work; from prevention and early help through to statutory intervention and serious case review.
New for this expanded Second Edition are:* A new chapter on child sexual exploitation, and more consideration of risks for children online * More detail on the links between domestic violence and abuse and child maltreatment * New `Child Perspective' boxes to encourage further thought about the voice and role of the childSafeguarding and Child Protection for Nurses, Midwives and Health Visitors 2e is an essential tool for students and will be invaluable for practicing healthcare staff who face an array of complex and sensitive issues in the field of safeguarding. "Dr Catherine Powell is the Institute of Health Visiting safeguarding expert, advising us on any national safeguarding issues or changes of policy.
I am personally delighted that she has updated this important book. Safeguarding is the practice area that nurses, midwives and health visitors must not shy away from.
It can however provide their greatest professional challenges as well as making them feel anxious about providing correct professional responses.
This is a very well-structured and comprehensive book.
The author very effectively brings safeguarding responsibilities to life with the use of case studies. The recurring features in the book are helpful and I very much like the inclusion of the child or young person's perspective boxes. For the inexperienced professional this can be forgotten when swamped with a complex situation.
By keeping the child's perspective at the centre of all decision-making the right decisions are more likely to be made. Perhaps of particular value to learning will be the chapter on child death and serious case reviews, something professionals seek to avoid ever being involved in, but sometimes find themselves having to face. It is therefore important to learn from these reviews of what went wrong, a breakdown in professional communication so often being a feature. This chapter explains how a serious case review is carried out and allows the reader to understand how they might be asked to contribute to the process.
To have a book such as this to use as a professional companion, not only to refer to and check facts, or underpin decision making, but also to expand professional knowledge, will lead to improved safeguarding practices, prompt, appropriate interventions, and better outcomes for children and families. Safeguarding is of course everyone's business and others needing to refresh or update their skills in this area will also find the information included of great value."Dr Cheryll Adams, Director, Institute of Health Visiting, UK"This is a very readable and practical book which achieves its aim to raise awareness about good safeguarding and child protection practice. The book is intended to prepare nursing, midwifery and specialist community public health nursing students and those `returning to practice', but it will also be of use to more experienced practitioners who work with children, young people and their families, wanting to update their learning in the field. The book clearly reflects the author's expertise and knowledge in safeguarding and child protection practice. It contains a wealth of extremely useful information presented in an easily accessible fashion. The range of case examples, practice points and new for this second edition, a `child's perspective' box, brings the text to life and focuses the reader's attention on practice needing to be `child-centred'. This is an excellent book, which I thoroughly recommend."Jane V.
Appleton, Professor in Primary and Community Care, Faculty of Health and Life Sciences at Oxford Brookes University, UK"All nurses have a duty to inform and alert appropriate personnel if they suspect a child has been abused, and to know where they can seek expert advice and support if they have concerns.
This comprehensive text providing the link between legislation, policy, research and practice will enable students and practitioners to expand their knowledge and understanding of the key issues involved in safeguarding children and young people."Fiona Smith, Professional Lead for Children and Young People's Nursing, Royal College of Nursing, UK
Information
Format: Paperback
Pages: 192 pages
Publisher: Open University Press
Publication Date: 16/11/2015
Category: Child abuse
ISBN: 9780335262526
Free Home Delivery
on all orders
Pick up orders
from local bookshops