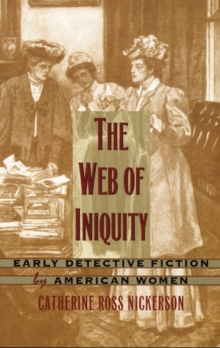 The Web of Iniquity : Early Detective Fiction by American Women
Hardback
Description
The Web of Iniquity is a study of detective fiction written by American women between the Civil War and World War II.
Refuting the idea that no American detective fiction of substance was produced between the times of Edgar Allan Poe and Dashiell Hammett, Catherine Ross Nickerson shows how these women writers blended Gothic elements into domestic fiction to create a unique and all-but-ignored subgenre that she labels "domestic detective fiction." This subgenre allowed women writers to participate in postbellum culture and to critique other aspects of a rapidly changing society.
Domestic detective fiction combined elements of sensationalist papers, popular nonfiction crime stories, and the domestic novel.
Nickerson shows how it also incorporated the gothic tropes found in the work of Harriet Beecher Stowe, Louisa May Alcott, and Charlotte Bronte and influenced the work of Pauline Hopkins.
Mid-nineteenth-century writer Metta Fuller Victor, who represented such important areas of cultural conflict as the role of professions in the formation of class identity and the possibility of women's independence and self-determination, paved the way for the appearance of women detectives in the late-nineteenth-century fiction of Anna Katharine Green.
Nickerson credits Mary Roberts Rinehart, in particular, for bringing sophistication to the subgenre by amplifying the humorous, terrifying, and feminist elements inherent in earlier detective novels by women.
Throughout the volume, Nickerson focuses on the narrative qualities of the domestic novel tradition and the ways in which it reflected ideologies of domesticity and gender.
Also included are a discussion of various rewritings of the Lizzie Borden scandal in this tradition and an afterword on the relation of domestic detective fiction to the hard-boiled style. The Web of Iniquity places the detective fiction written by women between 1850 and 1940 into ongoing discussions regarding women, culture, and literature and will appeal to scholars and students of women's studies, American studies, and literary history.
Other Formats
Paperback / softback from £17.59
Free Home Delivery
on all orders
Pick up orders
from local bookshops
Also by Catherine Ross Nickerson | View all