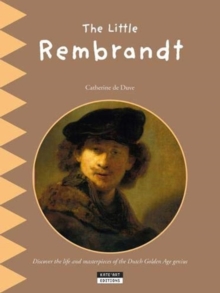 The Little Rembrandt
Paperback / softback
Description
Learn as you become an artist or an explorer! This fun activity book introduces children to Rembrandt's art using games and amusing observations.
You can carefully examine every detail of his masterpieces, portraits and self-portraits while learning about his life and legacy. AGES: 4 plus and the whole family (parents, grandparents, teachers) AUTHOR: Catherine de Duve is an art historian and painter who worked at the Royal Museum of Fine Arts of Belgium.
She designed her first interactive work for children in 1999, a review of James Ensor.
She went on as an editor and author to pursue children's art publishing in 2000.
Catherine de Duve has written more than thirty books of children's art for Kate'Art Editions, Alice Edition (Brussels), Hatier (Paris) and The Birdcage (USA).
Information
Format: Paperback / softback
Pages: 32 pages, Full-colour photographs, illustrations
Publisher: Kate art edition
Publication Date: 01/03/2019
Category: Interactive & activity books & packs
ISBN: 9782875751706