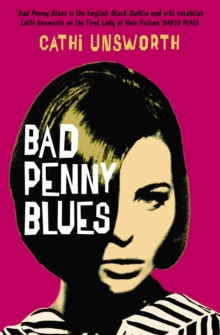 Bad Penny Blues
Paperback
Description
Police Constable Pete Bradley has one year in the force and dreams of moving up the ladder.
He's assigned as an aid to CID and working a routine nightshift with his partner when they stumble across a young woman's body.
She was working as a prostitute when she was strangled, her body dumped by a riverbank.
His search for her killer brings him deep into Soho's underbelly.
Meanwhile Stella, a young fashion designer with a promising career ahead of her, is woken by terrifying nightmares that echo the last hours of the dead women.
Sixties London explodes in all its ferocious colour, with fascists and Teds, migrants and hippies living in close proximity.
Bad Penny Blues is a tender paean to the city, a novel with a twisted mystery at its heart.
Information
Format: Paperback
Pages: 448 pages
Publisher: Profile Books Ltd
Publication Date: 19/11/2009
Category: Crime & mystery
ISBN: 9781846686788
Free Home Delivery
on all orders
Pick up orders
from local bookshops
Reviews
Showing 1 - 4 of 4 reviews.
Review by AdonisGuilfoyle
16/06/2015
Raymond Chandler meets Colin MacInnes: a dark, confusing crime thriller set in the underbelly of 1960s London. The whys and wherefores of the murders eluded me until the necessary exposition at the end, and the interwoven narratives of a policeman named Pete, a psychic medium called Stella, and the criminal element of Bayswater (ponces, brasses, smudgers, and conmen) fractures the story until the threads are tied together, but then, I can never comprehend Chandler's books, either! Most importantly, I was able to lose myself in Cathi Unsworth's cynical yet evocative portrait of a decade and a city, which is why I bought this novel in the first place. Apart from one mistake - the Great Freeze was in the winter of 1962-3, not 1963-4 - the author has obviously done her research, and helpfully included a list of sources in the back of the book (including MacInnes, Stewart Home and Max Decharne). As with contemporary authors of the decade, I could see the places and characters described, feel the unrest, and pick up on the mood of the nation at the time. Unsworth is a modern-day Chandler in the making.
Review by poonamsharma
16/06/2015
Bad Penny Blues is London noir novel set in 1959-1965 when Jack the Stripper (frankly, I didn't know much about it until now) serial murders in Hammersmith, London. The vicitimology was same as that of Jack the Ripper's, victims all prostitutes around Ladsbroke Grove. <br/><br/>What Cathi also sets out to do is establish the period of 60's in London - the political situation, fascists, the boxing fight between Cassius Clay and Henry Cooper (TV show Mad Men also had Cassius Clay vs Sonny Liston fight to establish the period), underbelly of Soho. This is presented through the eyes of young, sharp detective Pete Bradley who is still learning along the way. He is the one to find the first body in 1959.<br/><br/>Parallel to Pete's story, Cathy takes us to London's art burgeoning art word, the Bohemians. Lives of variety of characters take you through the world of homosexuality and dykes, the weird experiments (seances), fashion and occult. This part of the story is presented through Stella, a young fashion designer who is married to a fellow artist - a painter who draws the jazz notes. Stella has a gift, she can feel and dream the last moments of these dying prostitutes. <br/><br/>Stella and Pete never meet and yet their stories entwine, a literary device I loved. Some real life characters appear through the book (as can be guessed from the bibliography) at the end of the book. For example, Pauline Boty is Jennifer Minton, Joe Meek (of Buddy Holly seance fame) appears as elusive, weird James, Ronald Kray as Marks, Freddie Mills as Teddy, Screaming Lord Sutch as Dave and so on.<br/><br/>Each chapter title is actually a song title, there is so much trivia and cross-referencing that it is mind-boggling. I suspect, due to the sheer number of characters and the rush of following the (fictitious) conclusion of the murders ensure that I may have missed many things in the first reading. Plot also includes corrupt detectives, pervert aristocracy and occult - all of which are enough to attract a reader's interest.
Review by nigeyb
16/06/2015
This is the second book I have read by Cathi Unsworth and, in common with The Singer, what impressed me was the clear evocation of the era. In this case, the unsolved "Jack the Stripper" murders that took place near Ladbroke Grove from 1959 to 1965. Cathi Unsworth's noir tale take us on a ride through early-mid 1960s London: a world of bent coppers, teddy boys, sleazy aristocrats, immigrant communities, prostitutes, the occult, bohemians, Soho, art colleges, pop music, and so on.Real life events (e.g. Cassius Clay taking on Henry Cooper, and the election of Harold Wilson) mingle with thinly disguised fictionalised personalities from the era (e.g. Joe Meek, Heinz, Screaming Lord Sutch, Reggie Kray, and Freddie Mills).It's a dizzying and impressive achievement, and a book I thoroughly enjoyed. My only criticisms are it's around a hundred pages too long, and there are so many characters who come and go I found it hard to keep track. Fortunately, through the Google Books search facility, I could find the page numbers for characters, and so go back and remind myself who they were and how they fitted in.Another great book by Cathi Unsworth and recommended for anyone who enjoys well researched, credible, and evocative London fiction. 4/5
Review by Daftboy1
16/06/2015
I really wanted to enjoy this book more. Maybe I built it up to much. Its two stories running parallel. Set in London in the 1960S Policeman Peter Bradley investigating prostitute murders and also Stella who has vivid dreams about these murders.